Skip to content
Backpacking Gear Checklist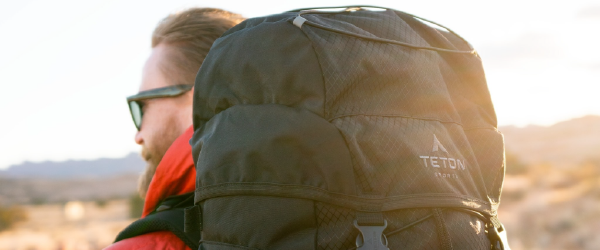 Backpacking through the wilderness is one of the most fulfilling outdoor activities that you can do. But, without the right gear in your pack, a great journey can quickly become a frustration-filled trek. It's important to consider all aspects of your trip as you pack your gear, including the weather forecast, the length of the trip, and the trail's terrain. As a rule of thumb, the longer your hike will be, the more you'll need to pack. But, it's important to know what items are absolute essentials. When backpacking, proper preparation is critically important.
The Gear Checklist
---
Below you will find a comprehensive list of all the gear you may want to bring on your next backpacking outing. You may not need everything on this list, but you should review each item and determine your exact needs.
Trail Gear
Your backpack should have between 30 and 50 liters of carrying capacity. The longer your trip will be, the larger your pack should be. For day hikes, day packs and hydration packs are a great alternative to larger hiking backpacks.
Rain cover for your backpack
Headlamp or flashlight (with extra batteries)
Bear spray
Ziploc bag for trash
Shelter
Anytime you are in the wilderness, having some form of safe shelter is vitally important.
Rainfly
Stakes
Guylines
Groundsheet for tent floor durability
Sleep System
Getting 7-8 hours of high-quality sleep is very important when backpacking. Sleep deprivation can be very dangerous, especially in wilderness survival situations.
Pillow or stuff sack
Pad attachment straps
Pump sack
Cooking Supplies
Some people enjoy cooking as part of their camping experience. Others would rather spend time hiking than cooking. Consider how much cooking you want to do as you go through this list of cooking supplies.
Eating Utensils
Mug/cup
Biodegradable dish soap
Quick-dry towel(s)
Collapsible water container
Bear proof food container
Food Supplies
You should plan on bringing snack foods and meal foods. High-calorie, high-protein snacks like almonds, beef jerky, and protein bars are ideal for eating on the trail. Your meals should consist of items that can be cooked with limited prep and kitchen supplies.
Energy foods (Food Bars, Protein Bars, etc.)
High-protein meals
Extra day's food
Hydration
Staying hydrated is critically important on the trail. When planning your water supply needs, determine if there is a source of water near your trail. It is also important to drink water before you feel thirsty. As a rule of thumb, you should be drinking a half-liter of water per hour of activity.
Water bottles and/or a water reservoir
Pre-filter for drinking water
Collapsable water container
Appropriate Clothing
The weather forecast is going to determine what type of clothing you should bring. But, be prepared for unexpected changes in weather. When deciding on footwear, you should look at the terrain of the area you'll be hiking.
Moisture-wicking t-shirt and underwear
Quick-drying pants/shorts
Long-sleeve shirt (for protection against sun and bugs)
Lightweight fleece or jacket
Boots or shoes (depending on the terrain)
Socks
Extra clothes
Insulated jacket or vest
Gloves or mittens
Warm hat
Sandals
Bandana
Gaiters
Navigation
Although modern GPS systems are generally very reliable, it is important to pack back-up methods of navigation. Familiarize yourself with these methods before beginning your trip.
Emergency Supplies
It is important to be prepared if you are in an emergency survival situation. These items will keep you safe if such a situation does occur.
Whistle
Lighter, matches, and other fire-starting equipment
Emergency shelter (tarps, pup tents)
Itineraries (We suggest leaving one with a friend and leaving another under your car seat)
Emergency beacon or flair
Sleeping pad patch kit
Super glue (optional
Needle + thread
Small Sharpie
Backup water treatment pills (Chlorine Dioxide)
Hygiene
Although 'roughing it' is part of the camping experience for many, maintaining basic hygiene on the trail is an important part of safe backpacking.
Hand sanitizer
Toothbrush and toothpaste
Sanitation trowel
Toilet paper/wipes and sealable bag
Menstrual products
Prescription medications
Prescription glasses
Sun protection (sunglasses, sunscreen, SPF-rated lip balm, hat)
Urinary products
Additional blister treatment supplies
Tools
It's important to pack a basic toolkit to fix any equipment malfunctions.
Duct tape
Knife
Scissors
Screwdriver
Multitool
Extras
Below are some additional odds-and-ends that some campers may find useful (or entertaining) to bring with them.
Playing cards/board games
Books
Compact telescopes
Binoculars
Journal, pens, and pencils (preferably waterproof)
Digital camera
Small waist pack or daypack
Ten Essentials
The National Parks Service has published a list of the "Ten Essentials" for backpacking and wilderness exploring. The Ten Essentials is a collection of first aid and emergency items that will help you deal with unexpected events (including minor injuries, weather changes, and delays). Depending on where you're camping, you may or may not need all of the Ten Essentials, but it is a good idea to review this list before packing. Consider pairing this list with the above checklist.
Navigation (maps, GPS, compass)
Sun protection (sunscreen, hat, sunglasses)
Insulation (jackets)
Lighting (flashlights, lamps, lanterns)
First Aid Kit (bandages, gauze, disinfectant, medicines)
Fire (matches, lighters)
Repair Kit (basic tools)
Nutrition and Extra Food (snacks and meals)
Hydration (water and water purification)
Emergency Shelter (tarps or lightweight backup tents)
Packing Tips
Pack Appropriate Food -- Food can take up a lot of weight and space in your pack, so it's important to carefully consider what kinds of foods you want to bring. We suggest healthy, calorie-dense foods like nuts, seeds, and animal proteins. Avoid sugary and excessively salty foods -- they taste great, but these types of foods can take a toll on your performance. Many backpackers make mealplans before packing. Structuring your meals can be very helpful in portioning and packing your food.

Keep It Light -- Eliminating a few ounces here and there can save a lot of weight in your pack. While it's important to be well-prepared, you should not carry things that you don't need. Additionally, look for lightweight alternatives wherever possible. By switching to a lightweight shelter and sleeping bag, for example, you can save a lot of weight in your backpacking setup.

Pay Attention to Fabrics -- Depending on where you're backpacking, you'll need to pack different clothing. But, try to find fabrics that help your body thermoregulate in both hot and cold conditions. If backpacking in cold conditions, pay careful attention to your clothes' warmth-to-weight ratio. While you want to be as warm as possible, avoid heavyweight fabrics like cotton and duck canvas.