Skip to content
Best Handgun Brands
Explore the Best Pistol, Revolver and Handgun Brands
Whether you're looking for an excellent concealed carry unit or a new firearm for home defense, you need to prioritize handguns that are safe, reliable, and effective. When you're starting your search, it's important to first understand who the major players are in producing reputable shotguns time and time again.
Selecting the Best Handgun Brand
Finding the best handgun starts with finding the best handgun brand. Whether you'll be making a handgun purchase for home defense or concealed carry, the right brand will bring you the accuracy, reliability, and ease of shooting required in an emergency situation or even a day of target practice. The best brands will have options in a variety of calibers for different shooter skill levels and hand sizes. Remember, the following factors determine a quality firearm:
Reliability
Durability
Ergonomics
Affordability
Variety
Our Top Picks
Your specific shooting style, goals, and preferences will be major factors in determining which handgun is right for you. Still, there are a few tried and true manufacturers that have hit the mark for many years, and these provide an excellent place for you to begin your search. Below we have featured some of the top brands in handguns, including Glock, CZ USA, Beretta, Smith and Wesson, and Sig Sauer. If you're looking to cast a wider net, we have a table detailing all the major handgun manufacturers deemed worth of sale at Sportsman's Warehouse at the bottom of this article.
1. Glock
When you think of handguns, the iconic manufacturer Glock likely springs to your mind. Because of the immense popularity of Glock, they have excellent aftermarket support, and an extensive line of highly reliable pistols.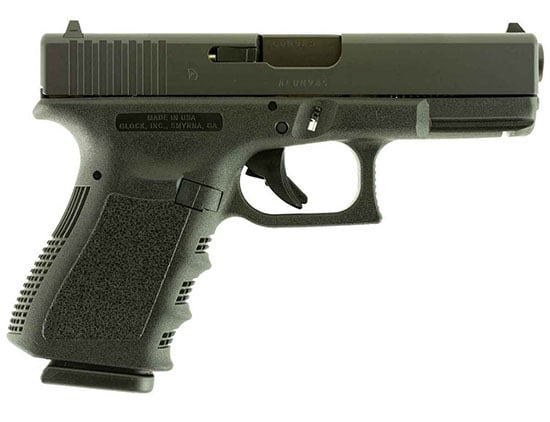 Glock only produces handguns – you won't see them offering rifles or shotguns like most of the manufacturers on this list. Originally founded too build a handgun for the Austrian military, Glock prioritizes lightweight, slim pistols that are well-suited for new and longtime shooters alike. They have a wide array of pistols, but they all fall within the classic Glock aesthetic.
2. CZ USA
Moving from Austria to the Czech Republic, CZ USA is our next pick for an excellent manufacturer of handguns. Their pistols are particularly popular for competitive shooting, and are widely used by military and police.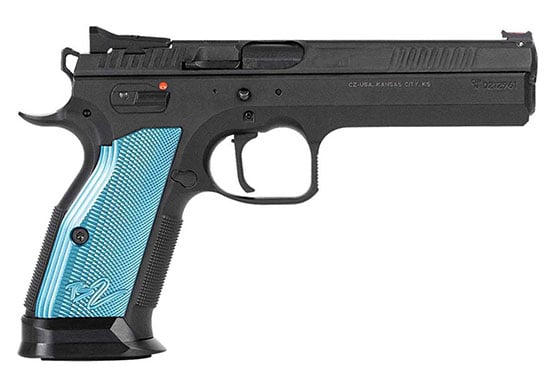 CZ USA's pistols are excellent for concealed carry and home defense. Their best-known line is the CZ-75, an incredibly ergonomic pistol that is friendly to new shooters, and the CZ P09 is another strong offering.
3. Beretta
Beretta is an Italian manufacturer of high-quality handguns, shotguns, and rifles. While some of Beretta's new pistols might be less affordable than comparable options, but they are sure to impress.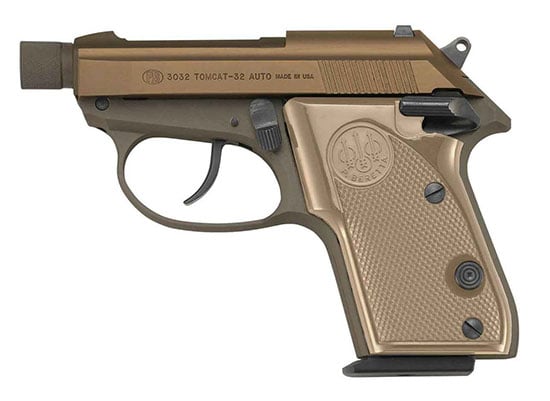 Beretta offers a wide selection of handguns, but their best known is the Beretta 92. This handgun is available in many models and is particularly popular among military veterans. The Beretta 92 is extremely accurate and reliable, and easy to clean and maintain.
4. Smith and Wesson
Smith and Wesson is another classic American firearms manufacturer, and they have been putting out reputable, quality guns since their founding in 1852. Whether you're shopping for concealed carry, duty, home defense, or target practice, Smith and Wesson is an excellent option.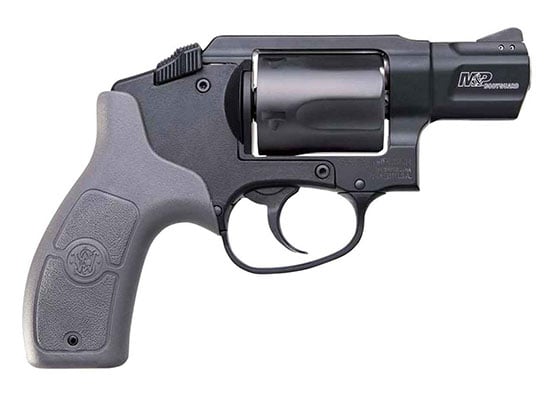 Smith and Wesson is a longstanding law enforcement and military brand. Their M&P pistols can be found in police departments across the globe, and their pistols were used in the Civil War. Their revolvers are highly popular and excellent quality.
5. Sig Sauer
Sig Sauer is specifically dedicated to manufacturing pistols. This Swiss-German company won a 2017 bid to supply pistols to the US Armed Forces, and are well known for their duty-grade pistol quality.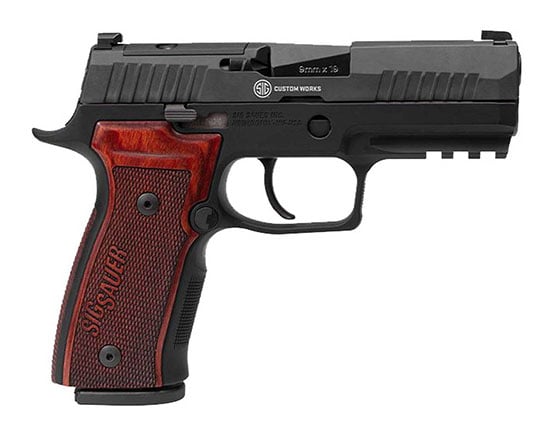 The Sig P320 is used by the US military, but it is also a straightforward option for new shooters. If you're looking for polymer framed guns, it's hard to compete with Sig Sauer. While it's a bit heavier than options such as the Glock, this also makes recoil more manageable.
And A Few More…
While these might represent our absolute top picks, there is a world of excellent handgun manufacturers available to the modern marksman. Each has unique offerings and a unique brand. The following table represents those handgun manufacturers that have passed the quality requirements necessary to be sold through Sportsman's Warehouse. By considering these offerings against your needs and goals, you'll be sure to find the perfect handgun for you.
Brand
Description
American Classic
American Classic offers high quality handguns for affordable prices. The American Classic II is one of their most popular models, a 1911 pistol chambered in .45ACP or other classic cartridges.
American Tactical
American Tactical is a top importer of handguns from some of the best manufacturers in the globe. They offer handguns chambered in .45ACP, .22 LR, and 9mm Pistol. One of American Tactical's most popular handguns is the ATI HGA FXH-45 Moxie.
Auto Ordnance
Auto-Ordnance is an American company founded by a retired Colonel in 1916. Their line of 1911 pistols, called the Auto-Ordnance 1911, is available in .45 AP and 9mm, with barrels coming in 4.25" or 5". Their 1911BKO model is entirely made in the USA.
Beretta Handguns
Beretta is an Italian firearms manufacturer producing highly reliable, accurate handguns. Many experienced military members opt for a Beretta 92. Beretta offers full size and concealed carry handguns, frames made of polymer or metal, and handguns with a striker or hammer action.
Bersa
Bersa is an Argentinian firearms producer that has a global following thanks to the accuracy and reliability of its guns. Their bestselling handgun is the Thunder .380, a reliable, lightweight handgun giving strong performance even on a tight budget.
Bond Arms
Bond Arms seeks to provide serious protection in a small package. Bond Arms handguns are manufactured in Texas, and they offer 17 handgun models with 37 interchangeable barrels. The Bond Arms Bullpup is the most powerful 9mm of its size, with an overall length of just 5.1".
Browning
Browning offers a variety of handguns with highly reliable single-action triggers, made from stainless steel and top-of-the-line alloys. Browning supplies centerfire, rimfire, and semi-automatic pistols in their Buck Mark, 1911-22, and 1911-380 collections.
CZ USA
CZ USA is a Czech company that has become very popular thanks to its consistent production of high-quality firearms. The CZ 75B is a solid home defense pistol usable even for beginning shooters, and is highly popular thanks to its limited recoil with 9mm ammunition. There are options for any kind of shooter: the CZ P09 is specially designed for a high grip.
Canik
Canik is a Turkish company producing affordable striker-fired handguns, after getting their start in the aerospace and industrial sectors. The Canik TP9SF Elite is considered an excellent value for a concealed carry pistol., and the TP9 SA puts their classic design in a single-action pistol.
Century Arms
Century Arms is an American company that imports and manufactures firearms, including many handguns from the Turkish company Canik. One of their most popular models is the TP9SA.
Charter Arms
Charter Arms is an American company specializing in production of revolvers. They have offered revolvers chambered in .22 LR, .22 Win Mag, .32 Long, .32 H&R Mag, .38 Special, .40 S&W, and more. Charter Arms revolvers are American made, and they also produce accessories for carrying your revolver and additional cartridges.
Chiappa Italy
Chiappa Firearms is an Italian company manufacturing pistols and revolvers. The Chiappa Rhino is a popular revolver thanks to its small barrel and high-quality controls. Their pistols include FAS 6007, 1911-22, and M9 pistols, while their revolvers are the Rhino and SAA 1873.
Christensen Arms
Christensen Arms is a manufacturer of fine pistols using high-qualit materials. Their pistol offerings include the Modern Precision Pistol, a bolt-action pistol with a carbon fiber barrel; and the CA9MM, a modern sporting pistol with a carbon fiber barrel and forged aluminum receiver.
Cimarron Firearms
Cimarron Firearms is an American company specializing in reproducing firearms of the Old West. Cimarron Firearms handguns include percussion revolvers, conversion revolvers, open top revolvers, cartridge revolvers, and their Blue and Gray Collection.
Citadel
Citadel is a firearms manufacturer producing a variety of handguns. Their offerings include semi-automatic handguns, revolvers, concealed carry guns, 1911 pistols, AR-15 pistols, AK-47 pistols, pistol brace guns, and more. Their 1911 pistols are great quality for their affordable price.
Colt
Colt is an iconic American firearms manufacturer best known for the M1911 pistol, also known as the Colt 1911. It is a single-action, semi-automatic pistol chambered in .45 ACP that gained great popularity. Colt also produces revolvers and other series of pistols, including their Defender Series and Competition Series.
Dan Wesson
Dan Wesson Firearms is an Amerrican handgun manufacturer and a part of CZ USA. Originally specializing in production of high-quality revolvers, Dan Wesson has moved into production of 1911 pistols over the past decade. They are particularly known for switch-barrel revolvers.
Diamondback
Diamondback is an American firearms manufacturer producing high-quality firearms that are accessible to those on a limited budget. The DB380 came of their vision to produce one of the smallest micro-compact .380 automatic pistols savailable, with precision materials sourced from all over the U.S.
EAA
European American Armory (EAA) is an importer of various firearms to the United States. Its handgun offerings are for competition, home defense, tactical applications, and personal carry. They offer handguns from the manufacturers Girsan, Tanfoglio, and Weihrauch.
Ed Brown
Ed Brown is a manufacturer of custom handguns, specializing in a modern platform of the 1911 with a much friendlier price tag than is typically found in the world of custom handguns. Their newest model is the KC9, a smaller, lighter 9mm that immediately became a bestseller.
FN
FN manufactures pistols for concealed carry, home defense, and tactical applications. The FN 509 is a tactical pistol that has placed in many competitions. Their other series include the FN 502, FN 503, FNX, and FN Five-seven.
Glock
Glock is an immensely popular and even iconic manufacturer of handguns. Glock is widely used thanks to the simple design of their firearms, making them easy to fire even for beginners, and its history of use with military and police. They produce short recoil-operated semi-automatic pistols.
Grand Power
Grand Power is a firearms manufacturer based in Slovakia. Their pistols can be chambered in .22 LR, .380 ACP, .40 S&W, .45 ACP, 6mm Me Flobert, and 9x19 Luger. They sell civilian pistols, sporting pistols, and pistols specifically designed for law enforcement and mililtary purposes.
H&K
Heckler & Koch (H&K) is a German small arms manufacturer whose high quality firearms are used by military, law enforcement, and civilians alike. The HK VP9 9mm pistol is one of their most popular offerings, and offers a striker fired 9mm with a single stage trigger.
Heritage
Heritage Manufacturing produces simple, reliable rimfire and centerfire single-action revolvers. The Heritage Rough Rider is one of their signature series: the 16" Rough Rider is inspired by the 19th-century Colt Buntline, while the 6-Shot Rough Rider is a single-action rimfire revolver that comes with a wide selection of grip options.
Hi-point
Hi-point Firearms is known for manufacturing high-quality American made handguns that are affordable and come with a lifetime warranty. Hi-point is known for its line of compact 9MM pistols including Model C9, Model C9 HC, Model C9 G, Model C9 Nylon and Model C9 TGM.
Honor Defense
Honor Defense is a Georgia based American gun maker that produces high quality pistols used for self defense and law enforcement. They produce several well known 9MM handgun models ideal for self defense and concealed carry.
Kriss Sporting
Kriss Sporting (KRISS USA) is the North American arm of the Switzerland based firearm manufacturer KRISS group. Kriss Sporting is known for innovation in firearm design, technology and solutions for law enforcement, military and civilian shooters.
KAHR Arms
KAHR Arms is a recognized leader in firearms technology and innovation. They are an American manufacturer that specializes in producing compact and mid-size semi-automatic pistols chambered in several of the most popular cartridges including including 9mm Luger, .380 ACP, .40 S&W and .45 ACP.
Kel-Tech
KelTec is an American firearms company that manufactures an extensive line of pistols, rifles and shotguns. KetTec pistols are desigend for a number of applications including both self defense and sport. KelTec's popular pistol models include P50, P17, CP33, PF9, P32 and P3AT, among others.
Kimber
Kimber is an American gun manufacturer that specializes in producing top caliber pistols and revolvers. They're know for producing some of America's finest handguns. Some of their top manufacturing achievements include the iconic Kimber 1911, R7 Mako and the Micro 9.
Llama
Llama is an international firearms manufacturer that produces semi-automatic pistols designed for home defense, concealed carry, target shooting, and sevice & security. They are known for making pistols that are very affordable without sacrificing quality or reliability.
MAC
MAC Firearms produces semi-automatic pistols designed for home defense, concealed carry, competition shooting, target shooting and service & security. Some of MAC's more popular models include the MAC 1911 classic series, MAC 3011 SLD Tactical series and MAC Rapido series.
Magnum Research
Magnum Research is a USA based manufacturer of historical military firearms including replicas of WWII 1911 Pistols, the M1 Carbine and world famous Tommy Gun. Magnum Research is also known as the inventor of the iconic Desert Eagle pistol series.
Mossberg
Primarily recognized as a shotgun company, Mossberg is also a top tier manufacturer of semi-automatic handguns and pistols. Currently, Mossberg offers two handgun models, the MC1sc and its cousin the MC2c. Both models are lightweight and compact designed for concealment, durability and performance.
Nighthawk Custom
Nighthawk Custom Firearms has built a name for itself as one of the world's top manufacturers of the finest 1911 pistols--including the Thunder Ranch Combat Special, Agent2, GRP Recon, President, Counselor and Heinie Lady Hawk 2.0.
North American Arms
North American Arms slogan says it all--Convenient, Reliable and Effective Firearms. Based in Provo, UT, North American Arms is an American gun manufacturer that provides several lines of reliable and effective handguns including the Guardian .380 ACP compact pistol, .22 Ranger II Break-top revolver and .22 Sidewinter revolver.
Remington
In addition to rifles, Remington manufacturers some of the best handguns on the market. Remington offers a complete line of pistols available in compact, full-size and subcompact classes. Popular pistol calibers include .380 auto, .40, .41, .45 auto, 9mm and 10mm.
Rock Island Armory
Rock Island Armory combines time tested and proven design with state-of-the-art technology to produce the Rock Island revolver series. Each revolver is manufactured using a solid steel design with fixed front sight and smooth channel frame cut rear sight. The compact size of the Rock Island revolvers makes them an ideal everyday firearm for diverse applications.
Ruger
Ruger is a leading manufacturer of high performance handguns and pistols. Ruger handguns are durable, reliable and competitively priced. Ruger produces the GP100 one of the leading full-size revolvers in the world. Ruger produces an excellent line of conceal-carry weapons.
SCCY
SCCY Industries is an American firearms company that specializes in producing top-quality handguns for self defense and concealed carry. SCCY manufacturers the popular 9mm CPX series and is known for providing superior customer service and a lifetime warranty.
SAR USA
SAR USA is the exclusive importer to the United States of firearms produced by Sarsilmaz Silah Sanayi of Istanbul Turkey--one of the largest and most reputable firearms manufacturers in the world. SAR USA produces high quality firearms used by military forces in several NATO countries.
Sig Sauer
Sig Sauer is recognized as one of the top manufacturers of quality handguns and firearms in the world. Sig Sauer firearms are the weapons of choice for military, law enforcment and commercial users throughout the world. Sig Sauer produces the popular P226, originally developed for use by the U.S. Army.
Smith & Wesson
When you hear the words 'Smith & Wesson' you immediate think revolvers and pistols. Over it's 130 history, Smith & Wesson has gained a reputation for producing some of the most reliable and iconic pistols and revolvers ever produced. Their firearms are used for both self defense and military application.
Springfield
Springfield Armory is internationally recognized as a premier manufacturer of reliable, durable and highly accurate handguns and pistols. Springfield is one of the few firearms brands to be a four time recipient of the Golden Bullseye award from the National Rifle Association.
Stoeger
While Stoeger historically has been known as a shotgun brand, the company offers a popular line of high quality handguns and pistols. Today Stoeger produces many popular handguns models including the 8000 Cougar (similar to the Beretta Cougar) and the iconic .22-caliber Stoeger Luger.
Tristar
Tristar supplies pistols for more than 25 militaries across the world. All Tristar pistols are rigorously tested to ensure they meet the highest standard of reliability and performance. Popular Tristar pistol models include C-100, P-100, P-120, S-120, T-100 and T-120.
Taurus
Taurus is an American based firearms company which manufactures a diverse line of reliable, durable and highly accurate pistols and revolvers. Taurus pistols and revolvers are designed for a number of applications including hunting, target shooting, self defense and concealed carry.
Taylors and Company
Taylors and Company offers sportsmans and hunters a diverse selection of cartridge, blackpowder and conversion cylindar handguns and revolvers. Taylors and Company is known for its diverse line of classic revolvers.
Traditions
Traditions offers a large selection of Black Powder and Single Action Revolvers in a variety of calibers, barrel lenghths and finishes. From their 1851 Navy black powder revolver to the outlaw Josey Wales edition of the Rebel Revolver, Traditions offers a classic gun style for every handgun enthusiast.
Trailblazer Firearms
Trailblazer Firearms is a veteran-owned gun company that designs, develops and manufactures innovative American-made handguns. Trailblazer is best know of its single-shot .22 caliber pistol (LifeCard) weighing less than 7 ounces that is no bigger than a stack of credit cards.
Uberti
Uberti is known for producing quality replica firearms. The company offers an extensive line of traditional guns that are durable and reliable. Want to shoot an authentic a gun from the Old West? Then consider purchasing an Uberti and experience the Old West for yourself.
Walther
Walther Arms is a German firearms manufacturer that is known for innovation in firearms design and development. Walther has created some of the most iconic handguns and pistols including the P99 and the P38 used by .008 in James Bond movies. Walther pistols are used for sport, self defense and law enforcement.
* The list of best handgun brands above is limited to those brands carried by Sportsman's Warehouse. Brands are listed in alphabetical order.