Skip to content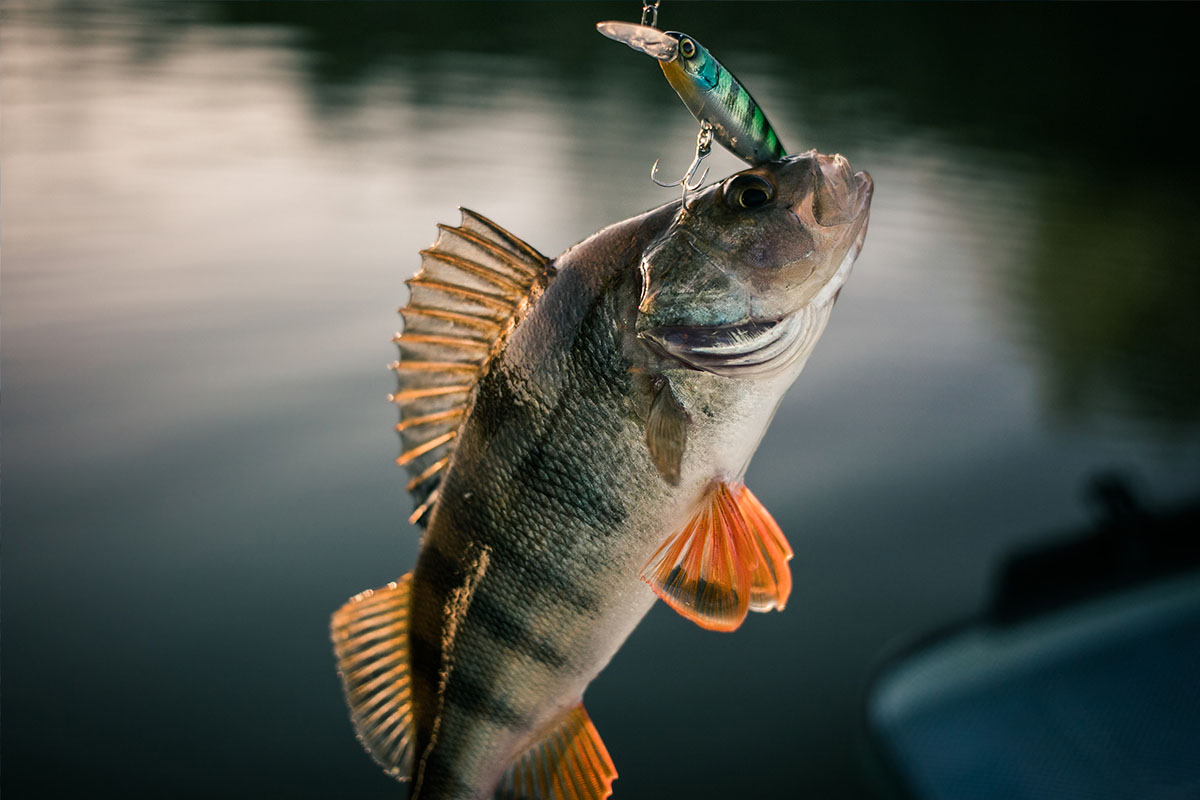 Perch think they're an apex predator, but they fit nicely in the middle of the food chain when they share a lake with musky, walleye, or Northern Pike. Another difference in these armored fish is that they school together around submerged structure.
The key to catching perch is to find a nest full of them and then to offer something they just can't resist. When it comes to artificial lures, its hard to beat crankbaits when you're after the highly popular yellow perch.
The yellow perch will feed on baitfish almost as large as they are. They don't know they're smaller than other predators, and their propensity to reproduce quickly and live in schools of up to several hundred fellow perch increases that aggressiveness. A yellow perch is closely related to a walleye, and many people consider them just as good on the plate as their larger cousin. A dinner of perch filets is a special treat anywhere in the country.
Perch prefer smaller, quick moving, erratic crankbaits. The depth crankbaits are presented to perch are important, but not nearly as much as depth is with largemouth bass, walleye, trout, pike, or musky. Perch will pursue a bait through various levels of presentation, sometimes from 10 feet to the surface before striking,
Perch look for one to two inch long baitfish as their preferred meal, but they'll hit on lures much larger than that. The secret is a little vibration with an erratic back and forth action on the retrieve. Raising and lower depth by alternating your cranking speed is another method of getting their attention.
Recommended Crankbait for Perch
Unpredictability is the most important attribute a perch crankbait can offer. Those steady, set depth retrieves that get strikes from walleye and lake trout won't get the job done with perch. They like noise mixed with a little sidestep action in a lure they'll strike. The good news is that crankbaits, both traditional, lipless and those filled with rattling BBs also come with action designed to get the crankbait jumping back and forth. The best perch crankbaits are often bulb shaped, but they'll hit longer, thinner crankbaits that border on jerkbait in design as well.
Rapala DT Series Medium Diving Crankbait
Rapala made their reputation a long time ago in Finland as a survival lure for people who couldn't afford the price of live bait. Many anglers consider Rapala crankbaits only for walleye or Northern Pike, but they're an effective lure for perch as well. This 2-inch Rapala crankbait is on the larger side of the spectrum for perch. Since perch have no respect for fish their size or larger, they'll still hit it with a vengeance.
This is a great lure for working around submerged logs or fallen trees that have portions both above and below the water. A set depth of eight feet is ideal for attracting individual perch to leave the safety of the school and rip out to take a swipe at a likely dinner in a baitfish. A common problem, (is it really a problem?) is that when you find the school, you're likely to get your crankbait hit almost simultaneously from two or more directions as multiple perch try to strike at once.
| | |
| --- | --- |
| Color | 45 multi-colored baitfish |
| Size | 3/8 ounce – 2 inches |
| Depth | 8 feet |
Rapala DT Series Crankbait
Perch are native to many lakes, but they've been planted in many more and are a favorite of manmade reservoirs across the nation. When you encounter a reservoir, you'll find that many of them, and all of the larger ones have docks extending on at least one side of the boat ramps. Those old guys you used to make fun of as they fished off the dock were on to something. Perch often dwell around the pillars of a dock or boat ramp, this lure is a perfect choice for those conditions.
A large ramp can have pylons extending 20 or more feet below the boardwalk above. The shade of the boardwalk, the structure of the pylons offering protection from larger predators and the availability of baitfish make this an ideal place to catch perch. The DT Series by Rapala is one of the deeper diving crankbaits you'll find for perch. Working at depths to 16 feet, this crankbait has the wiggle action that drives perch crazy, and the holographic design is difficult to tell from a live baitfish swimming by.
| | |
| --- | --- |
| Color | Natural holographic |
| Size | 3/5 –3/4 ounce – 2 ¼ to 2 ¾ inches |
| Depth | 10 to 16 feet |
Berkley Flicker Shad
Shad hang out with perch, smelt don't very often, but the aggressive nature of yellow perch makes them immune to the logic. With 27 color patterns, the Flicker Shad by Berkely is a crossover bait from the days of red yarn tied to a hook that drove crappie and perch wild back in the 1950s. This is a moderately deep diving crankbait that generates a lot of wiggle action at depths of 11 to 13 feet.
Perch are a warmwater species, but in the heat of summer, especially in the southern USA the oxygen levels in warm surface water drops to levels unsustainable for fish even as hardy as perch. When July and August hit south of the Mason Dixon Line you'll find perch in deeper, cooler water. Since perch will hit any time of day the bright sun reflecting off the colorful patterns of the Flicker Shad improves your chances of getting a school to start striking.
| | |
| --- | --- |
| Color | 27 Shad, smelt color schemes |
| Size | 5/16 ounce – 2 ¾ inches |
| Depth | 11 to 13 feet |
Salmo Hornet Floating Crankbait
Lakes, big and small, turn each spring. The action of the water flushing up from the depths and reversing positions with the surface water is a natural process that keeps a lake clean and thriving for fish. In the process it raises the turbidity level so high that fish often quit feeding until the water clears up. When that clearing is well on it's way, a floating crankbait can generate a ton of strikes from perch as they try to find a new nest and are at the same time very hungry from the turning process.
The 10 colors the Salmo Hornet is available in will match the water color and the adjoining sky color in a combination that perch can't resist. When the green tinted bait isn't hitting, the yellow or red patterns might do the trick. This is an easy crankbait to work despite its tiny 1/16 ounce weight. At just 1 5/8th inches it is nearly ideal in fooling hungry perch of various sizes into striking in water from five to 10 feet deep. This little wiggler is one of the best all around perch lures for any time of the year, but it works exceedingly well in the early months of the season.
| | |
| --- | --- |
| Color | 10 bright colors |
| Size | 1/16 ounce – 1 5/8inches |
| Depth | 5 to 10 feet |
Strike King Pro Series 3XD Crankbait
Strike King may have the best name in crankbait manufacturers, they sure have the best t-shirts to advertise their products, and in the case of the 3XD they have one of the best crankbaits for perch on the market. This might be considered the "Swiss Army Knife" of crankbaits for its great versatility. You'll have the choice of 11 different natural patterns of baitfish with this lure, meaning it will match baitfish throughout the year, whether they're spawning or simply feeding.
Working the durable two inch crankbait is easy with its slightly heftier 7/16 ounce weight. This crankbait is easy to cast, and equally easy to work around submerged structure. The set depth of 10 feet is great for perch throughout the year. It's a depth warm enough for lakes that have just been freed of ice, and it's equally good at 10 feet for lakes getting hotter on the surface during the late summer. This is a universal perch lure.
| | |
| --- | --- |
| Color | 11 natural patterns |
| Size | 7/16 ounce – 2 inches |
| Depth | 10 feet |
Strike King Bitsy Pond Minnow
| | |
| --- | --- |
| Color | 11 shad, baby bass patterns |
| Size | 3/32 ounce – 1.25 inches |
| Depth | 0 to 12 inches |