Skip to content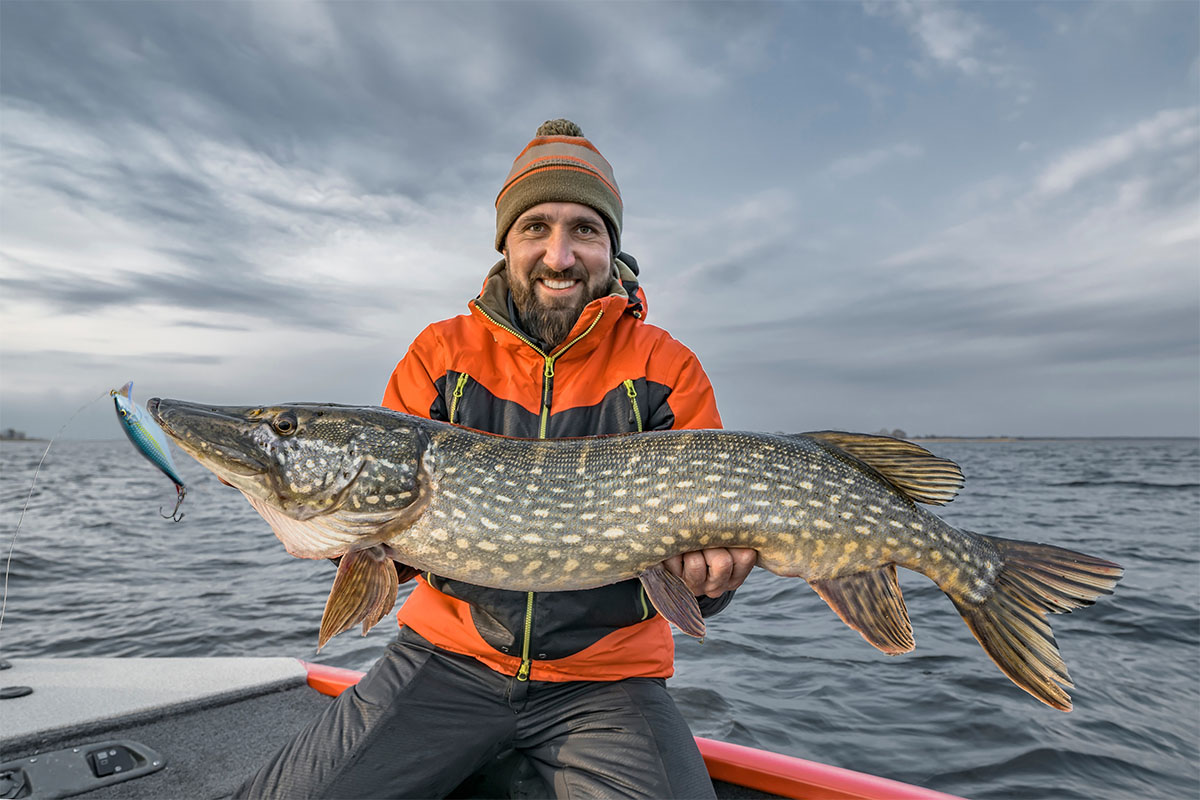 You often hear the term, "apex predator" when wolves, cougars, Great Horned Owls, and even lake trout and walleye are mentioned. While these animals are at the top of the food chain, they're not so aggressive that they've eliminated most or all of the competition in their habitat. That's not true of muskies.
A large musky is a solitary predator who has driven off or eaten all its rivals in a large section of a lake or river. That's one of the reasons they're considered the hardest North American freshwater game fish to catch. There just aren't that many of them since they've survived through a ritual of combat to achieve their top position on the food chain.
Musky are often referred to in popular sportsman's lore, as "the fish of a thousand casts." That's attributable to a pair of factors, the first is their low population in comparison with other fish, and the second is their frustrating habit of just hanging out for hours and ignoring every bait thrown at them, only to suddenly come to life and rip apart an offering for no apparent reason. This makes them a worthy opponent for patient anglers
Musky can reach tremendous size, some in excess of 50 inches long, and they have a long lifespan with some females living over 20 years. Fish grow over time, and that's why musky can achieve such outstanding size.
They are a very difficult fish to catch, but there are some baits that work better than others. The conventional wisdom is to fish with darker crankbaits, perhaps even black lures with no bright markings. This can be true on bright sunny summer mornings and just before sunset in the same brilliant light, but that's not necessarily the best time of day or the best conditions to catch musky.
Anglers with the greatest success in hooking and landing trophy-sized musky report that an approaching low-pressure system, on a gloomy, cloudy day often offers the best chance of success in getting these wary predators to strike.
The greatest attribute an angler can possess with musky is patience. A slow retrieve in water from five to 15 feet deep has the best chance of success. That's counterintuitive to many fishermen who like to cast and retrieve at a rapid pace to "cover more water." It might work with other species, but musky are different, different even than their often mistaken rival the Northern Pike. When musky do strike, you'll know it with their gulping, ripping powerful motion that has on occasion has ripped the rod right out of a fisherman's hands.
Recommended Crankbaits for Musky Fishing
Musky are a niche species of sportfish, meaning they're not nearly as widespread or popular as walleye, perch, trout, or even pike. In a natural setting, musky prefer to eat what humans often refer to as "trash fish." They prefer suckers, carp, shad, and minnows to other gamefish such as walleye, crappie, perch, or trout. The oilier the fish, the better musky like them. Crankbaits should reflect that preference, with shad being the most popular for musky since this style is often a good crossover from walleye or pike.
Many anglers swear by larger crankbaits in the seven to 10-inch size or even longer, but there is no clear evidence that these larger crankbaits get more interest from a musky. They do deter other species from striking so you won't hook a pike, walleye, or lake trout as often with a larger lure. Since musky rarely strike below depths of 20 feet, a smaller baitfish-style crankbait can still catch their interest and generate strikes. It's as much in your technique of slow, yet active retrieve as it is in the color or pattern of the crankbait you're presenting.
Trophy Technology Musky Armor Krave Jr Medium Diving Crankbait
This is a durable crankbait designed for both casting and trolling applications. The seven-inch lure is festooned with three sets of large, #5 hooks providing an excellent chance of hooking a musky when it strikes. The patterns are based on shad, walleye, and perch for a natural appearance and work best in lakes that are largely devoid of suckers or carp.
The depth setting of four to six feet is ideal for a slow retrieve, with a little twitch and a rise and fall technique, something that often gets a musky to take notice when faster, deeper lures just don't do the trick. When trolling, the depth is a little greater since it is more difficult to control the depth of a crankbait when you're trailing it behind a slow-moving boat.
| | |
| --- | --- |
| Color | Six natural & one chartreuse |
| Size | 7 inches |
| Depth | 4-6 feet cast, 6-8 feet troll |
Musky Innovations Regular Shallow Invaders Shallow Diving Crankbait
This is a hybrid, articulated crankbait in a big size that works well in shallow water. No matter how fast you crank or troll with this oversized crankbait, it will run at three to six feet below the surface. The extra-large nine or 13-inch size, with the addition of the two-piece articulated design, creates a natural swimming action that resembles a sucker, smaller carp, or large shad heading for shallower water.
Fished with patience, this is crankbait that can generate strikes from even the wariest of musky hidden beneath a log near an inlet. In this case, bigger means better when it comes to musky since the lure is too large for other gamefish aside from an oversized pike. But no angler will ever be disappointed if they hook a big Northern instead of a musky.
| | |
| --- | --- |
| Color | Brown, green, black |
| Size | 9 or 13 inches |
| Depth | 3 to 6 feet |
Musky Innovations Regular Swimmin' Dawg Shad Hard Swimbait
The Swimmin' Dog is a lipless crankbait designed to work near the surface on either controlled retrieves or with a jerk and reel action. The eight design patterns are carefully painted to resemble the same color scheme as the baitfish musky feed on in a particular lake. The eight-inch size and a pair of suspended hooks almost guarantee that a musky mistaking your crankbait for a perch, bluegill or shad will be hooked on their initial strike.
This is a lure designed for shallow water and is especially effective on musky in the colder months of the year. This is an expensive lure, so checking the species of fish in a lake before you purchase a lure to match what the musky may feed on is a great idea. This is a lure to try in the early spring and late fall when the water turns cold at the surface and musky are more apt to feed in the shallows.
| | |
| --- | --- |
| Color | 8 Natural fish patterns |
| Size | 2.3 ounces 8 inches |
| Depth | 0 to 2 feet |
Musky Mania Jake Rip Bait
This is a nearly indestructible lure made of solid steel and designed to bounce off rocks, hard sand, sunken trees, and even submerged metal objects. This is a crankbait that works in very shallow water and is designed to imitate a battered baitfish trying to struggle back to buoyancy after a strike.
The concept is that musky will hit a baitfish that appears stunned from a previous attack by another musky, or perhaps a walleye or Northern Pike. The Jake Rip has a hammered metal surface resembling scales, and the three color styles, carp, perch, and "Blond Bombshell" mimic the popular baitfish that musky often feed on. With a size range from 10 to 14 inches, it might be the largest lure you'll throw at a musky.
| | |
| --- | --- |
| Color | Carp, perch, and Blond |
| Size | 5-8 ounces 10-14 inches |
| Depth | 0 to 10 inches |
Rapala Shallow Shad Rap Crankbait
This is the shallow-running version of the popular Shad Rap. This lure is a multi-species crankbait that works for musky in mid-depth water but might get a walleye, lake trout, pike, or even a good-sized perch to hit while you're working the three to eight-foot depths for musky.
This lure is easy to cast and works well on jerk and flip retrieves, or on controlled, slow retrieves, the type that can get the interest of large, lurking musky. The wide range of colors and patterns, including perch, shad, bluegill, and walleye make this a versatile lure for almost any water holding musky. The additional brighter colors work well when the weather and sky conditions can change quickly.
| | |
| --- | --- |
| Color | 12, natural and vibrant |
| Size | 5/8 ounce 2 inches |
| Depth | 3 to 8 feet |
Rapala Rattling Rapala Lipless Crankbait
This is a lipless, sinking crankbait. What that means to you as the angler is that it takes more skill than other designs that are specifically designed to work at a depth no matter how fast or slow you crank the reel. This sinking crankbait is for skilled anglers. The speed of your retrieve determines the depth the lure will work. A faster retrieve gets the bait to the surface, while a slower one works the depths. The magic of a sinking lure is that you can let the lure rise and sink as it comes back to you, adding another dimension to your fishing.
The holographic images of shad, perch, and a rarely mimicked largemouth bass are lifelike and in clear water, on sunny days present a bait that is hard for a musky to tell from a live offering on the menu. This is a good, easy-to-control smaller lure that will catch musky as well as perch, walleye, pike, and lake trout.
| | |
| --- | --- |
| Color | Holographic Shad, perch, bass |
| Size | 3/8 ounce 2 inches |
| Depth | 0 to 25 feet |