Skip to content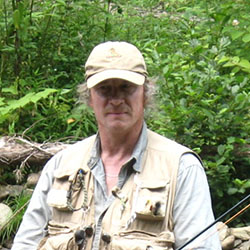 Bill's father was an avid outdoorsman and he instilled in Bill a lifelong love outdoors. Also, due to his father's employment with the U.S. Forest Service, Bill has lived in many fascinating places from North Carolina, to Texas, to Alaska, to Wyoming and the Florida Keys. In addition, Bill's father taught him to fire a handgun at age 2 and started taking him camping and fishing at age 4. Then, Bill started fly fishing at age 8 and hunting at age 10. Thus, Bill still spends every available moment in the outdoors and his passions are firearms, hunting, fly fishing, surf fishing, kayak touring, camping, and wilderness survival.
---
Highlights
Due to his love of the outdoors and wide range of experience, Bill is an expert fly fisherman, hunter, and firearms enthusiast as well as a professional outdoor writer and author.
---
Experience
Bill's love of the outdoors led him to become a professional fly fishing guide and instructor at age 25 and he spent over twenty years teaching people the fine art of fly fishing on the small streams in western North Carolina. In addition, after reading his father's outdoor magazines as an adolescent, Bill decided that he wanted to be a professional outdoor writer someday. Thus, Bill has been writing professionally for 10 years and has contributed articles to Southern Trout and American Outdoors magazines and has written and published 9 books on hunting, fly fishing, and wilderness survival on Amazon Kindle.
---
Recent Work