Skip to content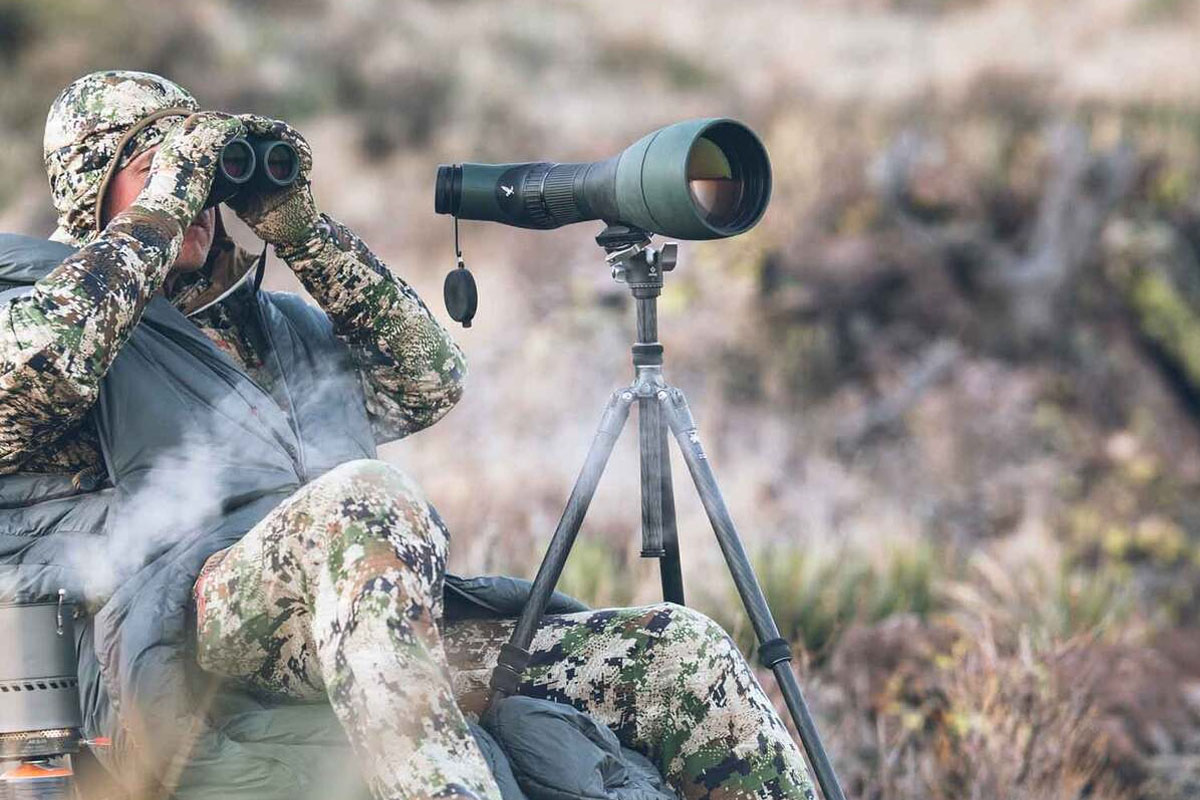 When you need serious magnification to find your next target, a spotting scope becomes your best friend. Spotting scopes help you determine the stats on a faraway target – and then choose whether it's worth pursuing. Having the right spotting scope can save you lots of time chasing after prey that isn't worth your time!
When I'm choosing a spotting scope, I know I'm changing the game for how I'll be moving through the field. That's why I always consider magnification, eyepiece design, versatility, size, overall quality, durability, and how the scope will fit with my tripod before I make a purchase.
In this guide, we'll walk you through the basic spotting scope features you need to understand before making a purchase, and then provide examples of some of the best spotting scopes for hunting on the market. These include:
What to Consider When Choosing a Spotting Scope
When I'm planning my next big hunting expedition, I put just as much effort into finding my targets as I do into eventually taking them. These are the primary features I'm considering when I'm choosing a spotting scope.
Magnification
The first thing I ask myself is how far away I want to see. Unlike binoculars, spotting scopes often come with zoom lenses. This means that they provide a range of magnifications. So for example, if you see a spotting scope that's described as 20-60x60mm, that means it offers 20-60x magnification. (We'll explain that second number in a minute.)
Most hunters will need the higher end of magnification, usually somewhere in the 20-60x range. The higher end of the magnification is particularly useful if you'll be searching for elk or other herds in open country or Western hunts. Keep in mind that higher magnification can mean more bulk and less light.
Magnification & Benefits
20-45x

Better for hunting in vegetation or shorter distances (ex. farm country)
More portable
Generally better in lower light (depending on the scope)

40-60x

Better for wide open spaces (ex. Western hunts)
Less portable
Higher magnification can get dark (depending on the scope)
Objective Lens
Remember that second number in the 20-60x60mm equation? Well, the "60mm" refers to the objective lens diameter. A bigger objective lens is, well, bigger – meaning the whole spotting scope is going to be bulkier. But, it also lets in more light, making it easier to see at longer-distance magnifications.
When I don't need that extra functionality at lower light, you better believe I'm taking the lighter scope with me over all those miles! But if I know I'll be hunting at dawn and dusk, it's worth every ounce to have the bigger scope.
Lens Diameter & Benefits
40mm-50mm

Lighter weight
Less capable in low light

60mm-70mm

Good light transmission
Mid weight

80-90mm

Excellent light transmission at high magnifications
Heaviest option
Angled vs Straight-Body
Our next big decision is what we want the scope to look like: straight or angled? But it isn't just looks here – this also impacts the scope's best functionality.
Straight-body spotting scopes are best for viewing from a truck or downhill. It's easy to pack, and lines up with your sightlines and your rifle, which means you can go from spotting to shooting more easily.
An angled spotting scope gives more options for how to get your eye onto the scope, which makes it more comfortable if you're going to be spending a lot of time searching for targets. The angle also makes it easier for people of different heights to peek into the eyepiece without having to adjust the setup.
Straight-Body
Angled

Better when viewing downhill or from a vehicle
Easier to pack
Aligns with sightlines

More comfortable for prolonged periods
Adjustable eyepiece
Easier to share among multiple people
Usable Features
I'm not just getting a spotting scope for my own backyard. I'm picking one out that's going to be trekking serious miles with me. That means it needs to have a few key features that make it usable in the field.
My final checkpoints are:
Quality glass. This almost goes without saying, but the scope is the glass. Extra-low dispersion glass (ED) is the cream of the crop, if your budget allows.
Durability. My spotter is coming with me in my pack into the elements. Will it stand up to my gloves, dust, rain, and everything else that's in my pack?
Tripod compatibility. How does the scope mount onto a tripod? If you already own a tripod that you'll want to use, make sure they're compatible.
Removable eyepieces. Sometimes I want a scope that I can use for a wider range of purposes. Having a removable eyepiece that I can swap out for a wide angle can make my scope that much more useful.
Best Spotting Scopes for Hunting
We've assembled a collection of excellent spotting scopes that will help you identify targets in the backcountry. Each serves a distinct purpose – so the best spotting scope for you will depend on your goals, your environment, and everything we've covered so far. I hope this guide helps you get what you need!
Scope & Specs
| Scope | Magnification & Objective Lens | Straight Body or Angled | Weight |
| --- | --- | --- | --- |
| Swarovski ATX | 20-60x65 | Angled | 56 oz |
| Leupold SX-4 | 15-45x65 | Angled | 62 oz |
| Vortex Razor HD | 20-60x85 | Angled | 65.7 oz |
| Vanguard Vesta 350A | 12-45x50 | Angled | 21.2 oz |
| Sig Sauer Oscar 3 | 10-20x30 | Straight | 16 oz |
Check Price
The Swarovski ATX is one of my favorite scopes. With excellent image quality, strong-low light performance, and a smooth eyepiece, I feel prepared for just about anything with this scope by my side. Swarovski has long set industry standards in optical performance, and the ATX is no different.
Swarovski doesn't just excel at glass: it's also an ergonomic build. Its compact size and weight make it more portable than similar options, which makes a big difference when I'm plodding through the field. If you prefer a straight-body scope, look no further than the similar Swarovski STX.
The Swarovski ATX is also sold as a modular system, meaning the eyepiece and body are sold separately. This makes it possible to swap out a larger objective lens for applications where the extra light might be worth the extra pounds.
REFERENCE: Best Spotting Scope for Hunting
Key Features
25-60x65mm
Modular design to swap different eyepieces (65mm, 85mm, or 95mm objective lens)
20mm eye relief
Bak4 glass
Zoom and focus knob in center of body
Super wide field of view
Barrel zoom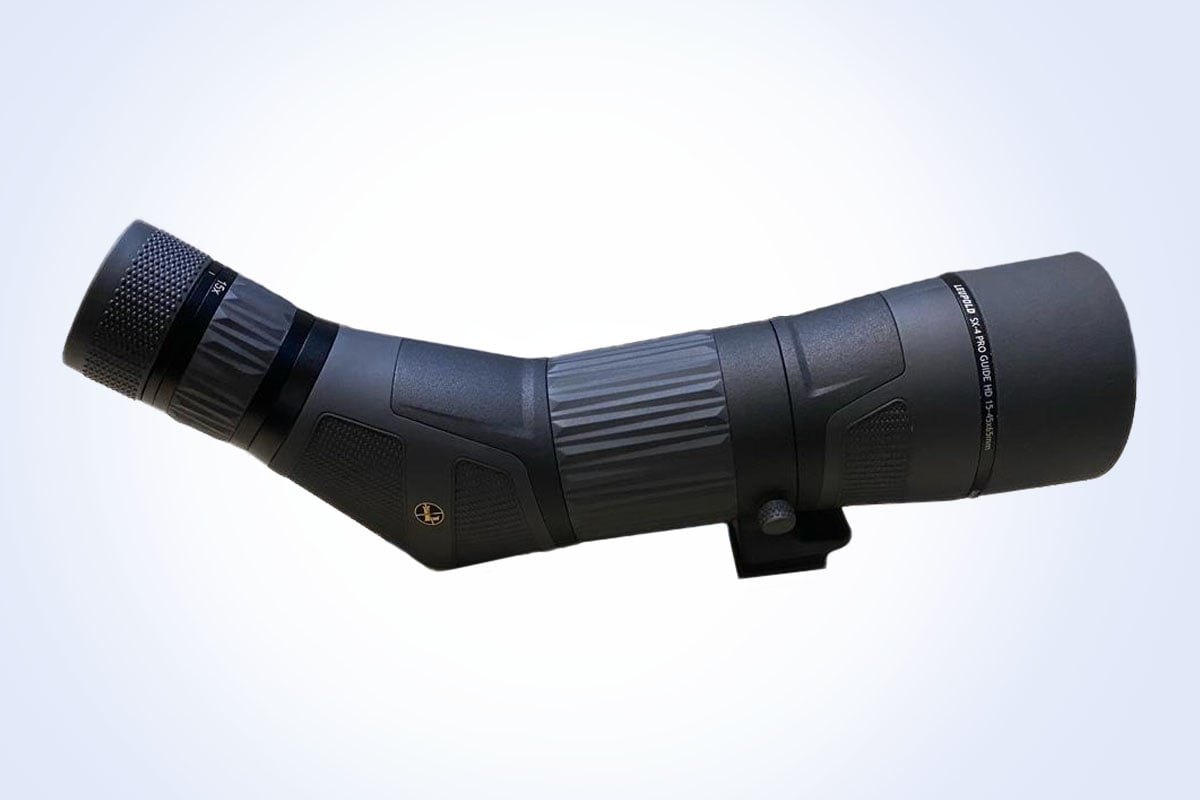 Check Price
When I'm heading out in search of big game, I need a spotting scope that can handle it. The Leupold SX-4 is an extremely durable scope with a fully waterproof and fogproof magnesium body.
The Leupold Twilight Max HD Light Management System reduces glare and improves light transmission in low-light situations. The eyepiece is oversized, which I find far more comfortable over long days of spotting.
Key Features
20-60x85mm
100% waterproof and fogproof
Oversized eyepiece for comfort
Twilight Max HD Light Management System reduces up to 90% more glare than competitors and provides 30 minutes of extra shooting light
Durable magnesium body
High definition clarity
Guard-Ion lens coating
Integrated sunshade
Scratch-resistant lens
Smooth focusing system
Built-in ¼-20 rotateable tripod adaptor port
Twist-up eyecups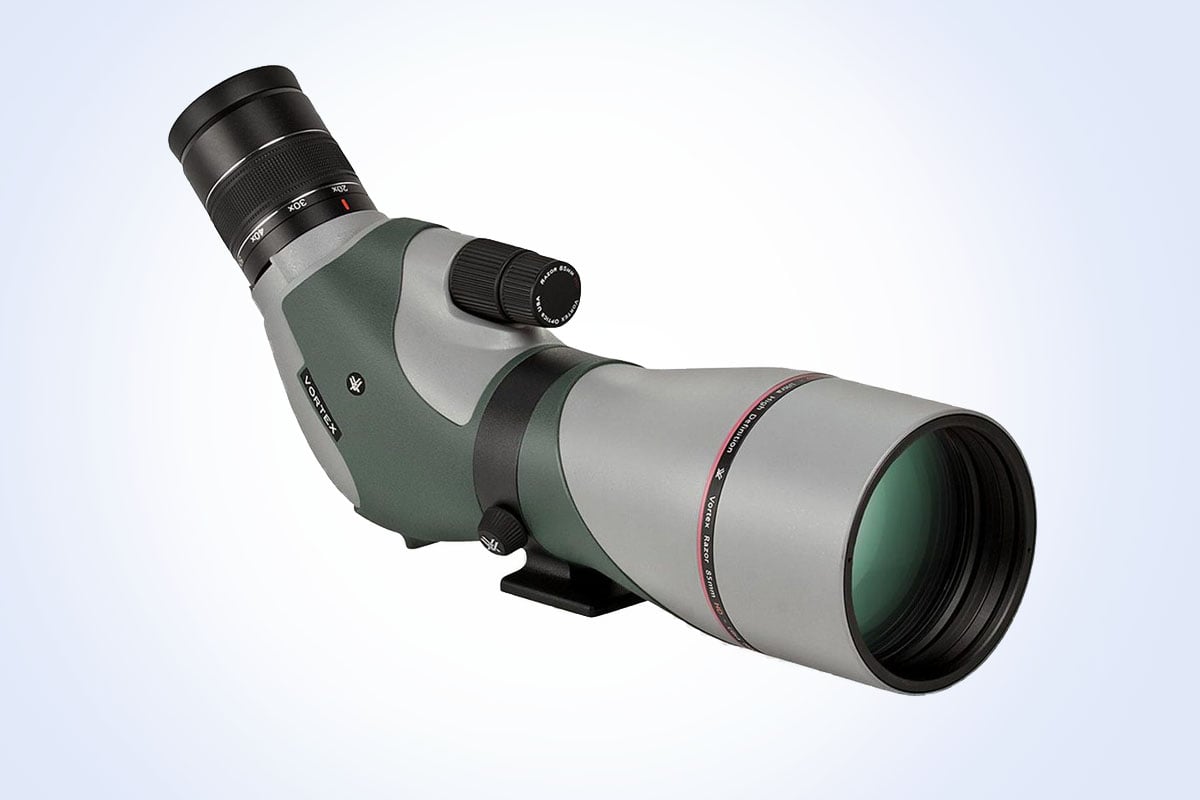 Check Price
If you're looking for the most bang for your buck, the Vortex Razor HD provides excellent performance without crossing over into premium pricing. While it's still certainly not cheap, it can get you into top-tier optics without shelling out as much as Swarovski will ask of you.
It has a clear image edge to edge, though not quite as great as its top-tier competitors. It also has a grayish tone that can work against it in low-light settings. With a great warranty, the Vortex Razor HD can help you on many future hunts to come over the years.
Key Features
Apochromatic lens system for high-definition views
Extra-low dispersion glass lens
ArmorTek protects exterior lenses
Fully multi-coated with XR coatings for light transmission and scratch resistance
Die-cast magnesium alloy body
Rubber armoring on body
Fully waterproof and fog proof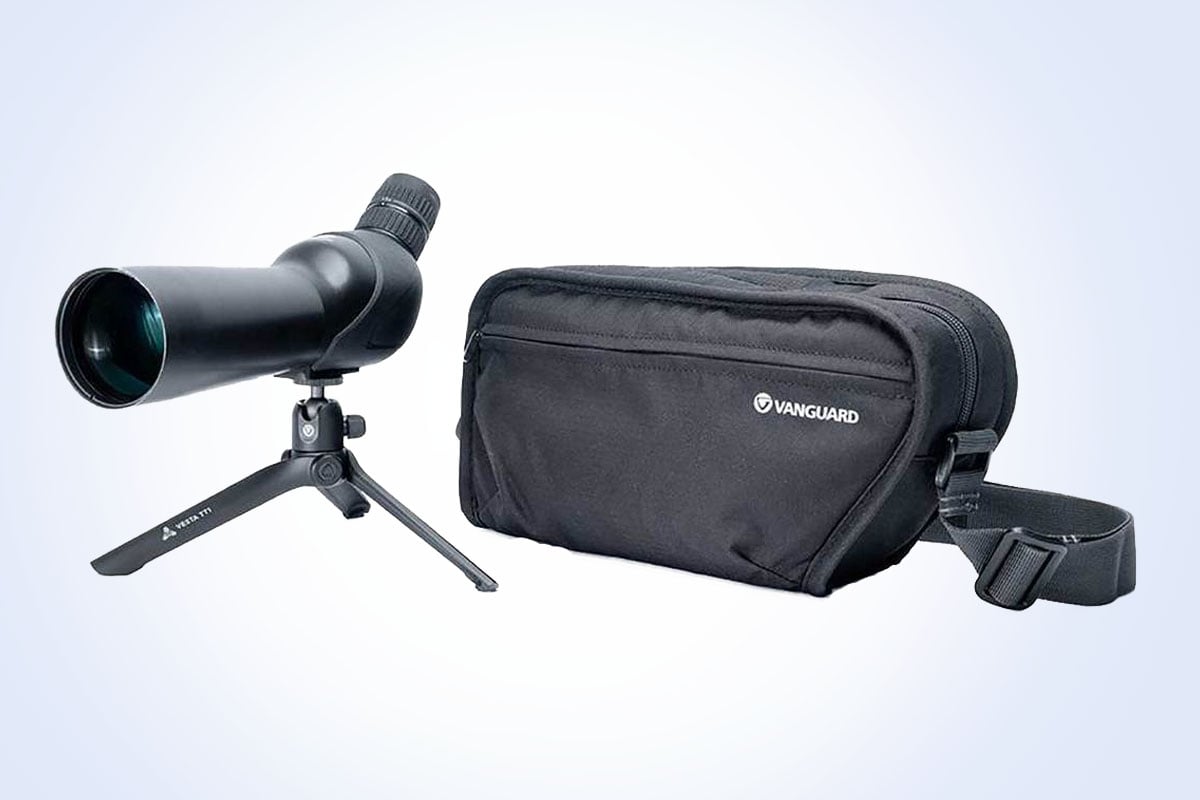 Check Price
If you're just starting out, finding the right spotting scope can be overwhelming. How do you know exactly what you need in the field if you've never gone out into the field? The Vanguard Vesta spotting scope kit can get you started with everything you need at a ridiculously low price point, so you can make these discoveries for yourself.
Now, at under $200 for a spotting scope, tripod, and carrying case, it's no shock that our optics take a bit of a nosedive in quality. But the Vesta 350A gives a clear enough image with a stable tripod and easy use.
I am by no means a beginner, but I've also found this a great kit just to keep in my car. It's not the high-quality glass that would be a huge loss in a break-in, but it's enough to help me explore a new area that I just happen to be passing through.
Key Features
12-45x50mm
Compact (9.25")
Lightweight (21.2 ounces)
Black armored aluminum alloy
MultiGuard coatings help light transmission
Waterproof and fogproof
Vanguard Premium Lifetime Warranty (USA)
Vesta TT-1 table top tripod included
Carry bag with sling included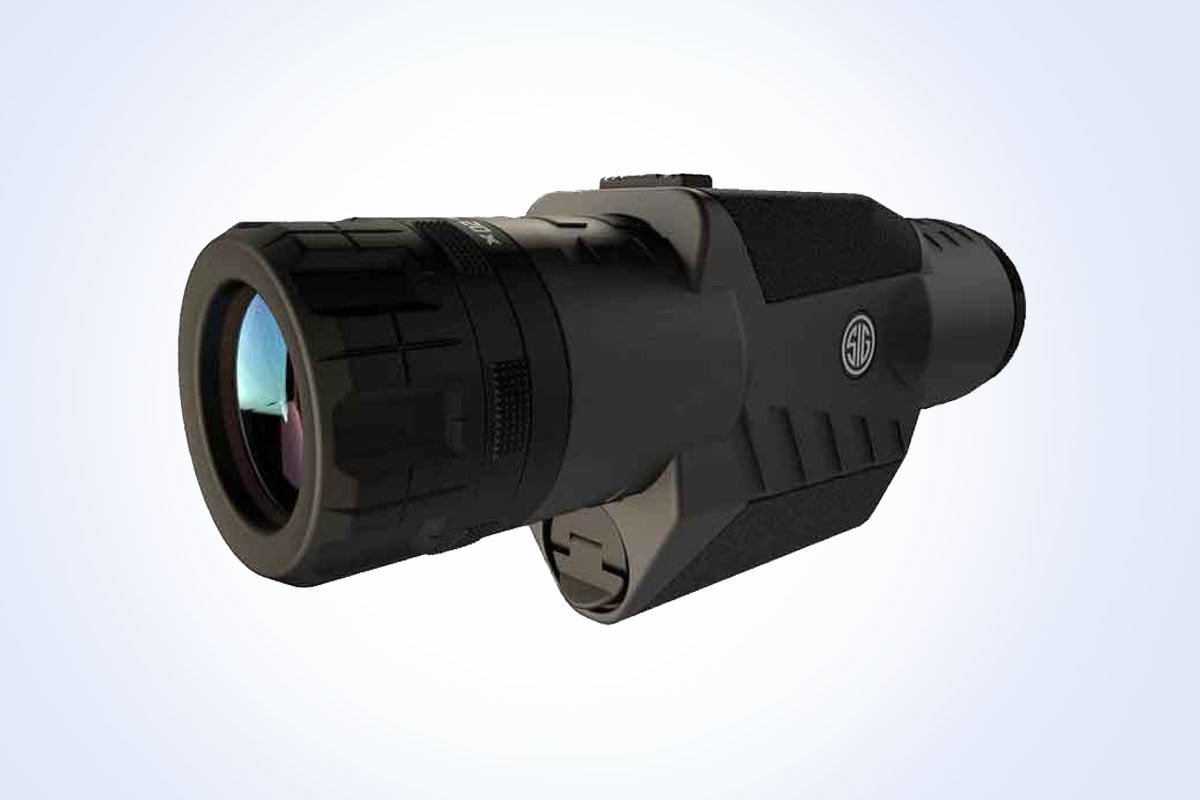 Check Price
When I'm hunting in the big woods, I don't need a big chunk of glass that can help me reach 60x magnification on some tree bark. I just need a little bit of optical backup in case there's a gap in the forest that I'd like to see through. This is when I bring along the Sig Sauer Oscar 3.
This handheld scope takes up very little space in my pack, but is a lifesaver when I need it. It only magnifies to 10-20x, so it's not what I would bring for big game hunting with long spotting sessions across vast terrains. But it offers quality optics in a very compact package, weighing in at just 16 ounces with a length of just 6.7".
It's intended only as a handheld scope, so it doesn't include a tripod mount. The smaller objective lens on this compact scope also gets you a narrower field of view. But when the mini scope is exactly what you need, Sig delivers.
Key Features
10-20x30mm
Compact and lightweight at 16 ounces and 6.7" long
15-23mm eye relief
SpectraCoat lens coating
IPX4 waterproofing
Handheld (no tripod mount)
SIG Optic Stabilizer system stabilizes the image
Low dispersion, fully multicoated glass
BAK4 prism
Multi-position twist-up eyecup
One-handed power selector wheel