Skip to content
You know you've always wanted one, you just aren't ready to as much as you'd spend for a good used car on a kayak. The good news is that there are many good quality kayaks available for less than a thousand dollars.
Kayaks offer the opportunity to fish where full-sized boats can't go and provide more water to work than you can find just fishing from shore.
Trout and salmon fishermen dominate the kayak fishing industry, but you can catch almost any species from a kayak, and a growing number of anglers have discovered their versatility for bass and the enjoyment of fishing saltwater for larger species.
You don't want to buy just any kayak, the differences in quality are tremendous. You can buy something made of thin layer plastic with no amenities, but you won't be happy.
The good news is that there are many well-constructed kayaks, built with high-impact, modern materials, in designs that fit just about any angler and in styles that sit high on the water, or in-set models that get you just inches above the surface.
I've used a few criteria in determining which kayak would be the best option for less than a thousand dollars and here they are.
Criteria for Kayaks Under $1000
Each of the fishing kayaks I'm recommending that cost under $1,000 I've evaluated based on the following criteria.
Construction Material

This is the most important concern in a lower-priced kayak. If you can locate one made of polyethylene, in thick single layers or preferably multi-layer skins that reduce punctures and abrasion, you've found a gem.

Portability

If you'll be carrying your kayak a few hundred yards, you'll need something lighter weight. Weight will also impact how you can strap your kayak onto the rack of your roof. Consider how you're getting your kayak to the water and how easily your kayak can move.

Length

Longer kayaks are more stable, and better on large lakes or the ocean. Smaller kayaks are more maneuverable and work fast water more efficiently. Kayaks can range from six-feet to 16-feet in length. The break between short and long kayaks is at 10.5-feet.

Capacity

How much do you weigh? And how many pounds of equipment are you going to pack into your new kayak? Capacity is measured in volume as well. How large are the storage compartments? And how much can you pack and still retain control?

Overall performance

If performance didn't matter, buying a log to float on would be a much less expensive option. Fishing fast water requires a lower profile kayak, in a shorter length to allow easy movement forward and reverse.

Comfort

Don't buy a kayak that won't fit you. Lower-cost kayaks often have smaller cockpits, make sure the one you select fits you and allows you to get in and out of it easily. You'll thank yourself after long hours on the water.

Maneuverability

Honestly, why would you buy a less maneuverable kayak? Getting there is what a kayak is all about, and the ability to move it where you want, when you want is why you're looking at one in the first place.
Best Fishing Kayaks under $1000 Comparison
Model
Weight (lbs.)
Length (Ft.)
Storage Capacity (lbs.)
Width (in.)
Maneuverability
(1-best to 5-least)
Starting At
Aquaglide Blackfoot Angler Inflatable Kayak
37
12.5
600
39
4
$999
Old Town Twin Heron Sit-Inside Kayak
63
13.5
500
32.5
4
$999
Evoke Navigator 120 Sit-On-Top Kayak
68
12.25
350
31
3
$959
Evoke Conquer 120 Sit-Inside Kayaks
56
12
325
29
3
$899
Perception Pescador 12ft Sit-on-top Kayak
64
12
375
28.5
3
$819
Old Town Vapor 10 XT Sit-Inside
49
10
325
28.5
1
$749
Perception Rambler Tandem 13.5 Sit-On-Top Kayak
78
13.5
550
34
5
$649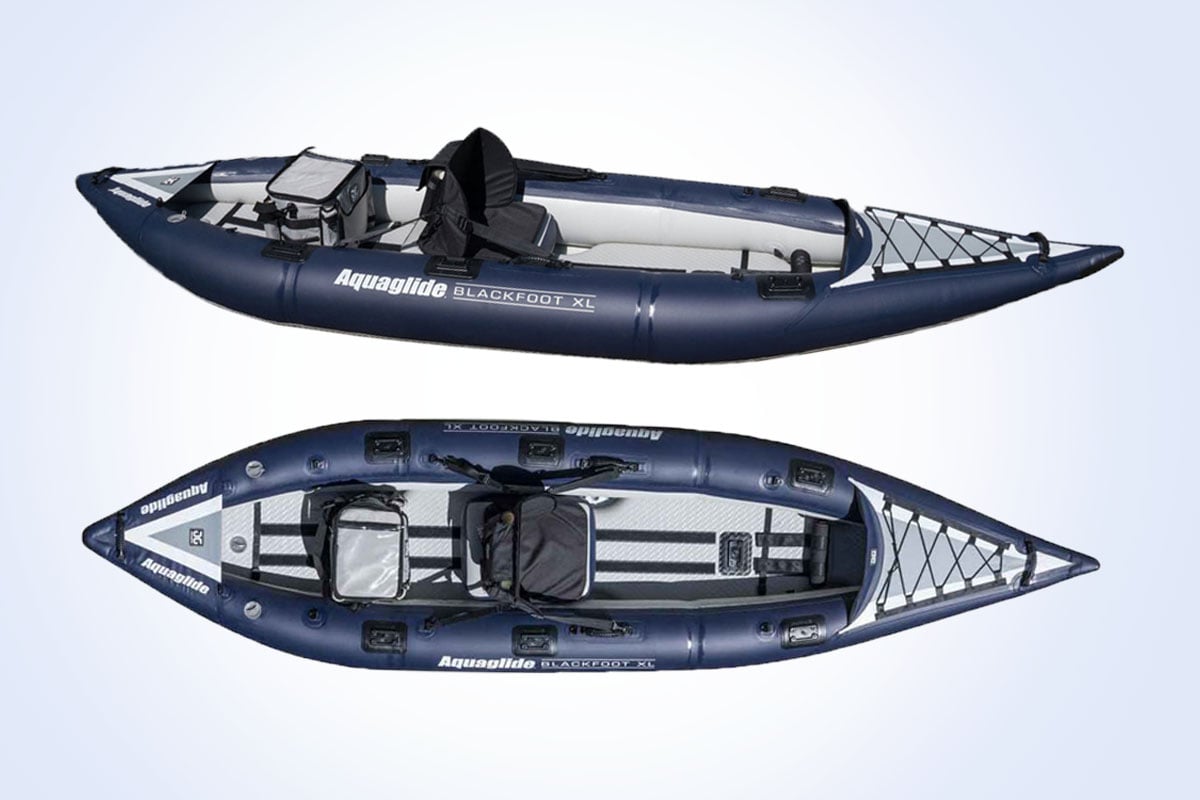 Check Price
There are times when a traditional kayak or fishing boat just won't do the trick. When it comes to fishing in the wilderness of Canada or Alaska flying in is the only option.
This kayak offers top-of-the-line hard sided performance in an inflatable style.
At 37-pounds it might be a little heavy for your backpack, but a couple would fit easily into a float plane, or more often an all-terrain vehicle traversing a steep, rocky mountain two-track road.
The AquaGlide Blackfoot Angler inflates to over 12 feet and has a solid 600-pound capacity, nearly 18 times its weight.
At a width of 39-inches, it offers steady, reliable transportation on the water at a fraction of the weight of traditional kayaks.
Key Features
Inflatable design
12.6 length for better control
Duratex construction
Adjustable Velcro footrests and seats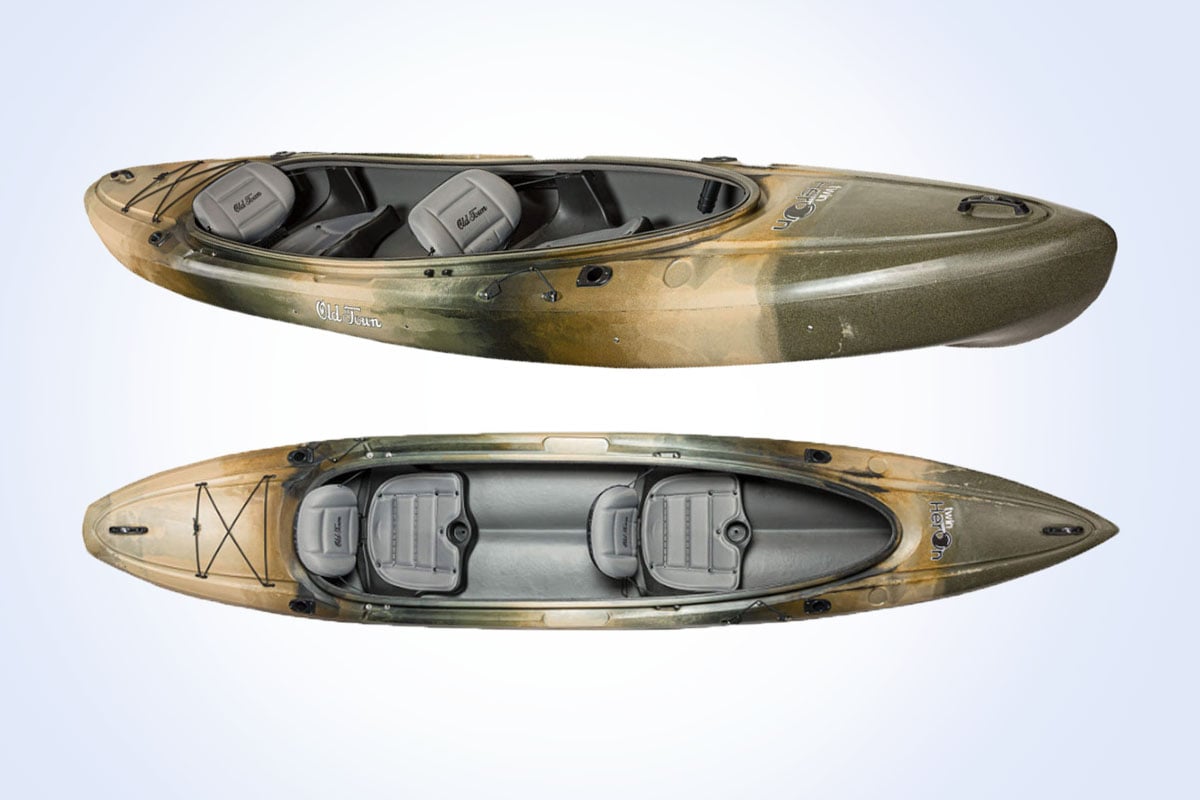 Check Price
A tandem kayak that can be used by two people, or for one paddler who needs the extra storage a 13.5-foot craft can offer. This is a large kayak, and at 63-pounds, you're not likely to carry it very far to the shore. But with the ability to carry two people, this watercraft can make up for its poundage.
The Old Town Twin Heron has a total capacity of 500-pounds, meaning it is rated for 437-pounds of passengers and gear.
It's a sit-in kayak, so it rides low in the water, offering a quieter approach to nervous trout, and greater control since you're out of the wind.
The advantage of a cockpit almost eight feet long is the ease of entrance and exit and all that extra storage.
Key Features
Sit-in design
13.5-foot length for better control
500-pound capacity
Heavy single polyethylene construction
Check Price
You're not going to win the single scull competition in the Olympics with this kayak, but you'll feel the speed nonetheless. This sit-on-top design is sleek, lightweight at 68 pounds, and is just begging for oversized paddles to slide you through the water.
As a fishing kayak, it is stable, with three hatches for storage and adaptability at every level to ensure you can configure it just for you.
The slightly over 12-feet length borders on a canoe with its narrow 31-inch width, but this is all kayak.
For a fishing kayak, you can't beat the price, and the design offers stability in occasional whitewater.
High-density, single-layer polyethylene guarantees durability when hitting rocks and other structure.
Key Features
Sit-on-top design
12.25-foot length for better control
Three storage hatches
Heavy single polyethylene construction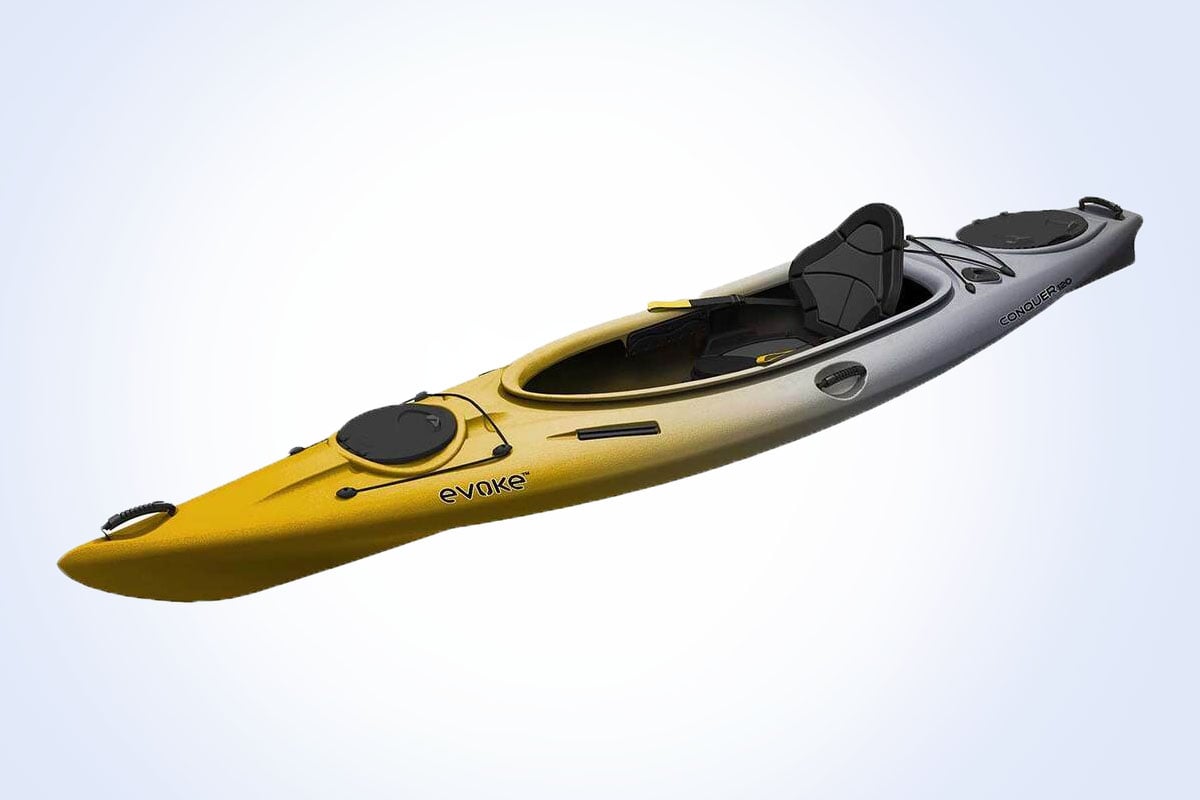 Check Price
Sometimes you don't want all the bells and whistles. When it comes to kayaks, what more do you need than a tough outer hull, a slick surface with the water, and a stable platform to catch fish from?
The Evoke Conquer 120 delivers on the basics. Nothing fancy, just a reliable, durable single-layer polyethylene design with a cockpit designed to fit most people.
The narrow 29-inch width slices through the water, but it creates a cockpit that might be too tight for larger anglers. Aside from that, this kayak delivers. The 12-foot length is perfect for working lakes and the backwater of rivers. The 56-pound weight is easy for most anglers to handle by themselves, and the 325-pound overall capacity provides ample storage.
Key Features
Sit-inside design
12-foot length for better control
Two storage hatches
Heavy single polyethylene construction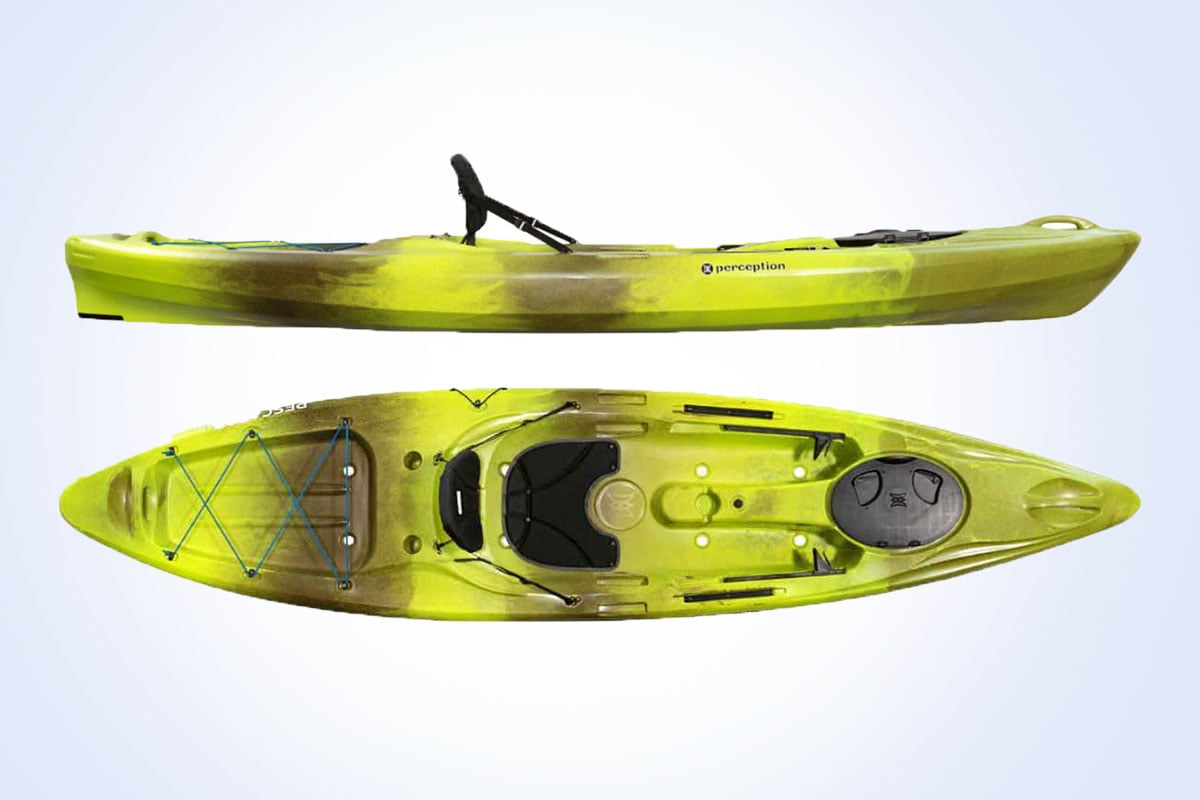 Check Price
Ready to fish, "right out of the box" is the primary feature of this discount kayak. Stability, speed, and straight tracking are all features kayakers, both novice and experienced look for. The Perception Pescador delivers on all of these attributes.
The 12-foot length offers the stability you won't find in shorter kayaks, with the additional cargo space make this a solid kayak for any angler.
At an empty weight of 64-pounds, you won't just pack this on your back and head into the woods, but it will load easily on top of your SUV. The weight capacity of 375-pounds offers the larger angler the opportunity to pack as much gear as a much smaller person.
Best of all, it comes at a discount price.
Key Features
Sit-on-top design
12-foot length for better control
375-pound capacity
32.5-inch width
Check Price
Narrow, short, and low in the water, this kayak is best suited for fishing fast-moving rivers and streams with sections of whitewater. The 10-foot length allows the user to maneuver easily around large rocks, and down fast-moving channels. The 28.5-inch width is narrow enough to traverse those watery challenges as well but may create a cockpit that is too small for larger anglers.
At just 49-pounds, the kayak is light enough for one person to drag across a few hundred yards when portaging between streams or lakes.
The weight capacity of 325-pounds limits the amount of equipment a larger angler can carry, but the 19.5-inch width of the cockpit takes care of that problem by only allowing smaller anglers to use it.
Key Features
Sit-inside design
10-foot length for greater maneuverability
325-pound capacity
Narrower 19.5-inch cockpit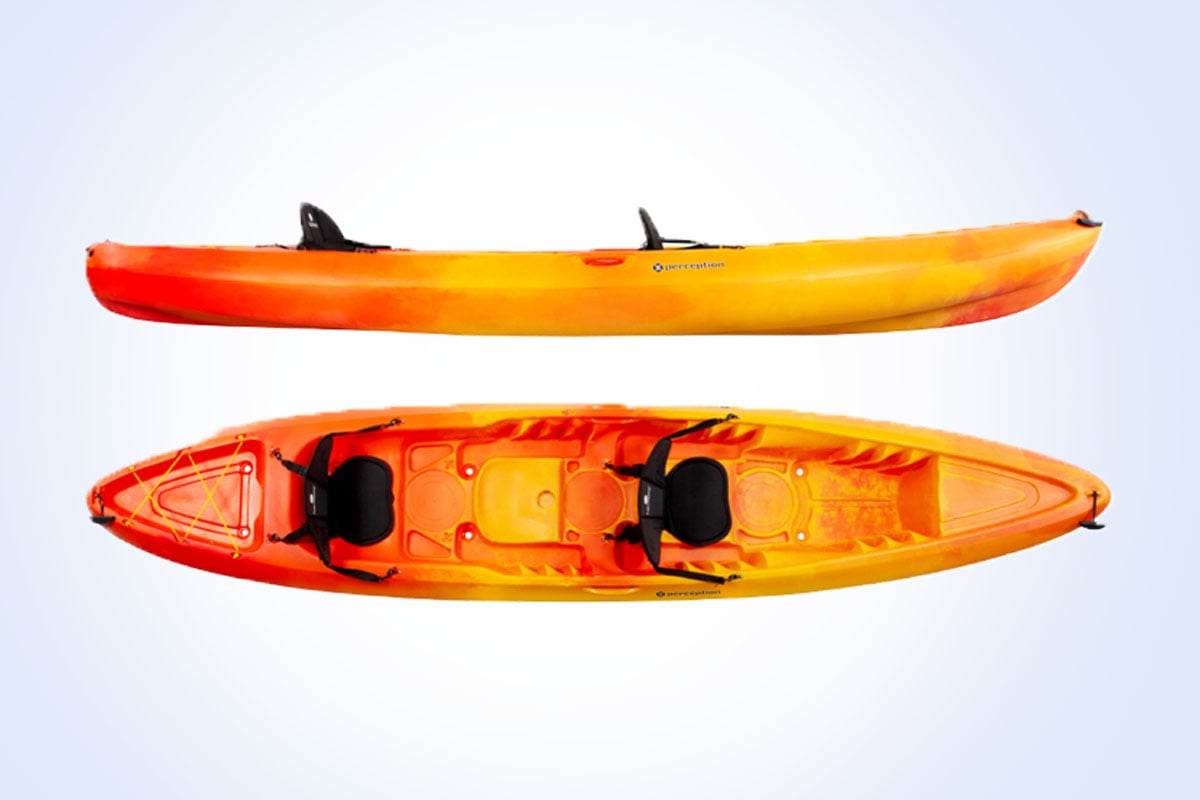 Check Price
Tandem models are fun for youngsters and couples to enjoy, but they're also useful for guides taking out anglers on new stretches of water. This tandem kayak will get two of you on the water at a very reasonable price.
At 78-pounds you're going to carry this kayak very far, even with a partner. But it loads easily in a pickup truck or on the top of an SUV and is easy to carry from the parking lot to the water.
A weight capacity of 550-pounds allows two average-sized users to pack a good quantity of gear and get out on the water.
The 13.5-foot length is one of the longest kayaks you'll find for under $1000 and offers much greater stability, albeit at the cost of maneuverability than shorter models.
The larger cockpit allows freer motion for one angler to fish, even working a fly rod, while the other works to keep the kayak in position.
Key Features
Tandem design
13.6 foot length for maximum stability
550-pound capacity
78-pound empty weight