Skip to content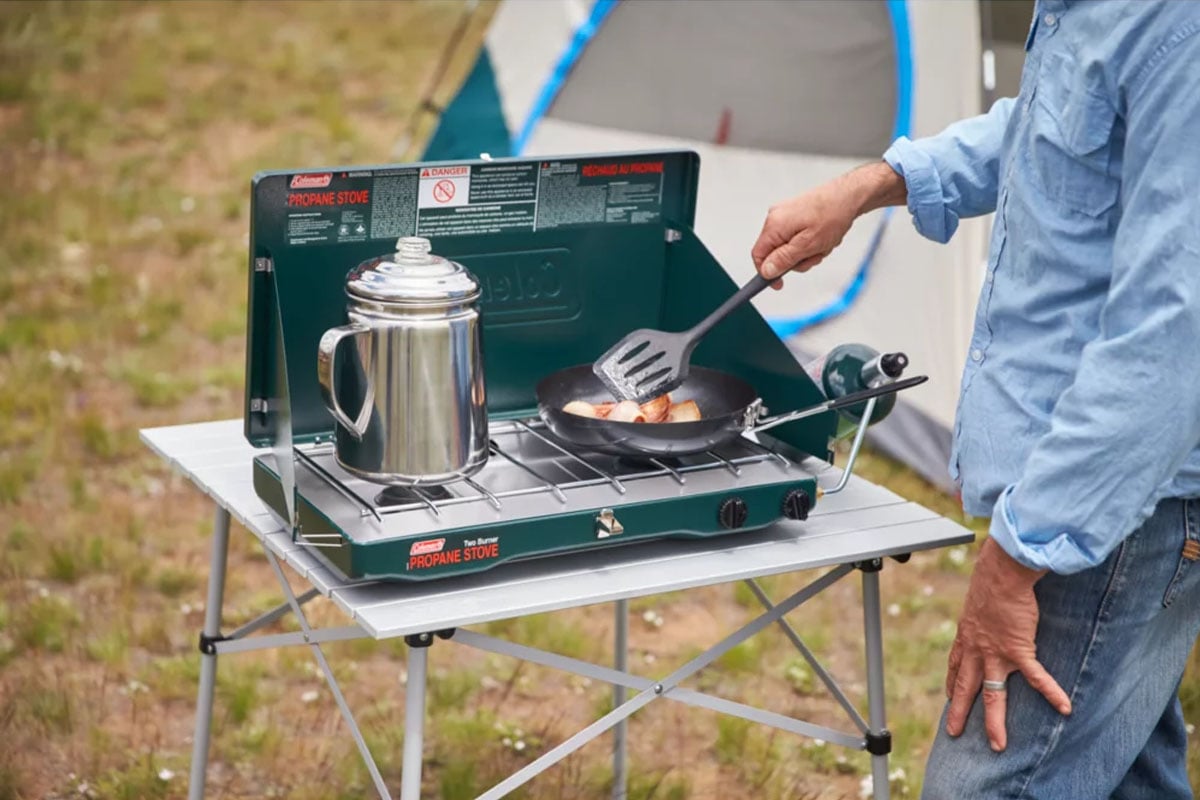 When venturing into the great outdoors, there are still certain necessities. A hot meal doesn't just provide energy and nutrition - it also boosts our spirits and gets us ready for more adventure.
When I'm camping, I know I need the perfect stove to fuel my next adventure - or sometimes, create a new outdoor cooking adventure! That's why I always consider size, power, fuel source, number of burners, wind performance, and extra features when I'm choosing a new camping stove.
In this guide, we will walk you through the basic features to look for when buying a camping stove, and include a list of some of the best camping stoves on the market. These include:
What to Consider When Choosing a Camping Stove
When you picture a camping stove, what do you see? You might immediately think of a single burner with a big knob, a two-burner stove, or just a sleek compact design. But just know: whatever your first impression, there's a whole lot of options when it comes to camping stoves. Here's my mental checklist when I'm planning for my next adventure.
Number of Burners
Right out the gate, I'm thinking about the size of stove I'm looking for. If I'm heading out solo or just with one other person, then I might plan all my meals so they're single-pot. Chilis, soups, rice dishes, and even pastas can do great on one burner - not to mention prepackaged meals, which I always bring along as a backup.
If I'm camping with a bigger group, then sometimes cooking a more elaborate meal is a fun part of our adventure. This is where two burners can really come in handy: if I'm going to be making bacon and eggs, for example, or a pot of chili for vegetarians plus one for meat-eaters.
Single burner

Smaller group
One-pot meals
Boiling water/pre-packaged meals
Conserving space

Double burner

Larger group
More complex meals
Multiple meal options/side dishes
Taking up more space
Cooking Space & Packability
Part of the consideration when I'm choosing my number of burners is size. If I don't need two burners for complicated meals, I can save a good amount of space on my picnic table and in my vehicle by switching to a single burner.
If I'm going to be making complicated meals and I have the room in my car, I do want a bit more cooking area. This can keep pots and pans from crowding each other and heating unevenly. It's always a trade-off!
Power (BTUs)
Now that I've narrowed down the types of stoves I'm looking at, I want to make sure it's bringing the right amount of power. Power in stoves is measured in BTUs, which stands for British Thermal Unit. We don't have to get more technical than that - it basically just means heat.
Your home burner averages about 6,000-8,000 BTUs per burner. If you're mostly going to be simmering and doing other low-heat cooking, lower BTUs will be just fine. But if you want to boil water quickly or do other high-heat cooking, you'll want higher BTUs, probably above the camping stove average of 10,000 BTUs. Your average stove needs more power than your home burner because of wind and other weather conditions.
More BTUs will mean more fuel - so don't get more than you need. But if you are going to be in cold or windy conditions, it might be worth the extra kick. Some stoves go up to 20,000 and even 30,000 BTUs.
Low BTUs (<10,000)

Simmering
Slower prep times

Average BTUs (10,000)

Suitable for most camper's needs

High BTUs (>10,000)

Cooking for larger groups
Need to boil quickly
Cooking in cold or windy conditions
Fuel Source
So, we know how much power we're looking for in a stove - but where is that energy coming from? Most camping stoves use propane, so it's highly likely that's a given, but not all camping stoves hook up to the same kinds of propane tanks.
If you have a large group and a large space, you might want a camping stove that will hook up to a bulk propane tank. This reduces fears of running out of fuel, and means you don't have to restock as frequently. Some stoves are able to hook up to small or bulk propane canisters.
You may find some stoves that use butane - these are usually compact stoves. Butane is not quite as easy to find as propane, but that is changing as butane stoves increase in popularity.
Bulk propane tank

Less frequent refills needed
Good for large groups
Can refill the tank itself rather than purchasing a new one

Small propane tank
Butane

Less common than propane
Often found with compact stoves
Ignition Method
So, we know what's causing the fire - but how are we supposed to start it? Some stoves use auto-ignition systems, which can be very convenient. These are buttons that cause an electrical spark, which lights the stove for you. However, auto-ignition systems can sometimes fail and be inconsistent, so it's good to have a backup.
You might also have a stove that gives a flint or metal striker. These are meant to be used manually. You can also light a stove with a match, but matches are very susceptible to weather, and you don't want your dinner to be at the mercy of the elements.
| | |
| --- | --- |
| Auto-ignition | Integrated electrical spark lights the burner for you Not always reliable |
| Metal or flint lighter | Works consistently Use striker to light the burner manually |
| Matches | Can work, but not waterproof and don't do well in wind |
Wind Performance
No matter where you're camping, if you're cooking outdoors, you're running the risk of wind. How is your stove dealing with that? If you'll be camping in harsh, windy conditions, you'll need more BTUs. A windscreen can also go a long way in keeping that little flame protected.
Additional Features
After these basics, there are a few things that I'm still left considering before I make my purchase.
Pressure regulator. Chilly temps can mess with the pressure inside a propane tank, which impacts the stove. Does the stove come with a fuel regulator that will keep the heat consistent?
Leg levelers. If I'm worried about my picnic table being crooked and sending my sauce everywhere, it's nice to have a stove with adjustable legs. This isn't the most common feature, however.
Griddle compatibility. Who doesn't love a hot grilled ham and cheese sandwich after a hike? If I want to fry up a meal for a handful of friends at once, I might make sure my stove will be compatible with a griddle.
Best Camping Stoves
We've assembled a collection of wonderful camping stoves that will keep you happy and fed through many adventures. Each stove serves a unique purpose - so the best stove for you will depend on everything we've covered so far in this guide. I hope this list helps you find what you're looking for to hit the great outdoors without sacrificing quality!
| Stove | Number of Burners | BTUs per Burner | Weight |
| --- | --- | --- | --- |
| Jetboil Genesis Basecamp Stove | 2 | 10.000 | 6 lbs 3 oz |
| Camp Chef Explorer 14 | 2 | 30,000 | 30 lbs 8 oz |
| Coleman 3-in-1 Stove | 2 | 12,000 | 13 lbs 8 oz |
| Camp Chef Outdoor High Pressure Single Cooker | 1 | 60,000 | 11 lb 8 oz |
| CanCooker Portable Cooktop | 1 | 8,000 - 10,000 | 6 lbs |
| Coleman Triton | 2 | 11,000 | 11 lbs |
| Camp Chef VersaTop | 2 | 16,000 | 39 lbs |
| Weber Q 1200 Gas Grill | Grill | 8,500 | 30 lbs |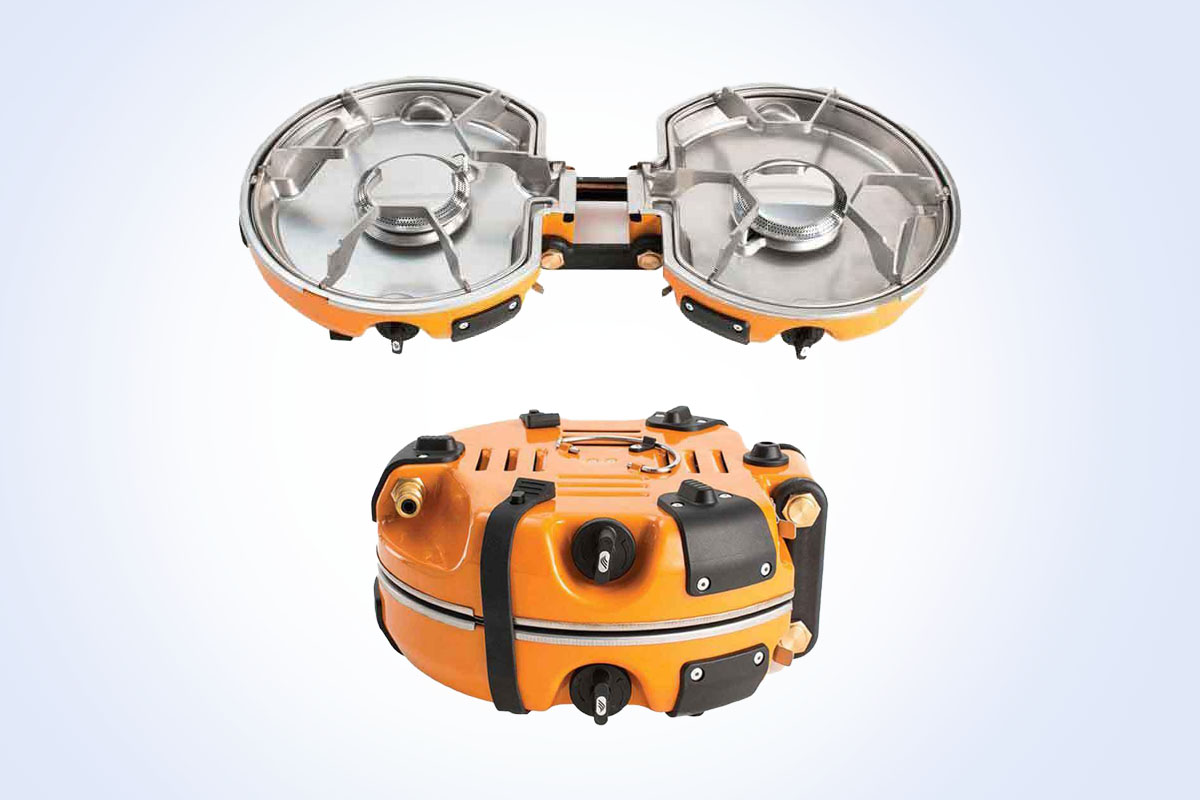 Check Price
I don't know about you, but I'm a sucker for a compact stove. I know it's less important when you're car camping, but the backpacker in me delights at seeing a serious piece of equipment pack down to fit neatly inside a tub or a pack. With a folding clamshell design, the Jetboil Genesis definitely satisfies that desire!
The Genesis has great control over its 10,000 BTU burners, with four full rotations available on each knob to get from lowest to highest heat. You can also chain additional burners to these burners, hooking a bigger cooking system up to a single fuel source. With that kind of scalability, you can bring one pair of burners for your small-group treks, and an extra pair for larger parties.
If you can spring to grab the JetBoil pot as well, these burners can slide inside it for an all-in-one cooking system that will go right in your backpack.
Key Features
Folding clamshell design for portability
Fuel output port to connect to other burners
10,000 BTU per burner
Advanced heat control for simmering
Easy clean drip trays
Canister fuel
3 min boil time
Piezo auto-ignition
Dimensions: 9.8x4.6in
Weight: 6 lb 3 oz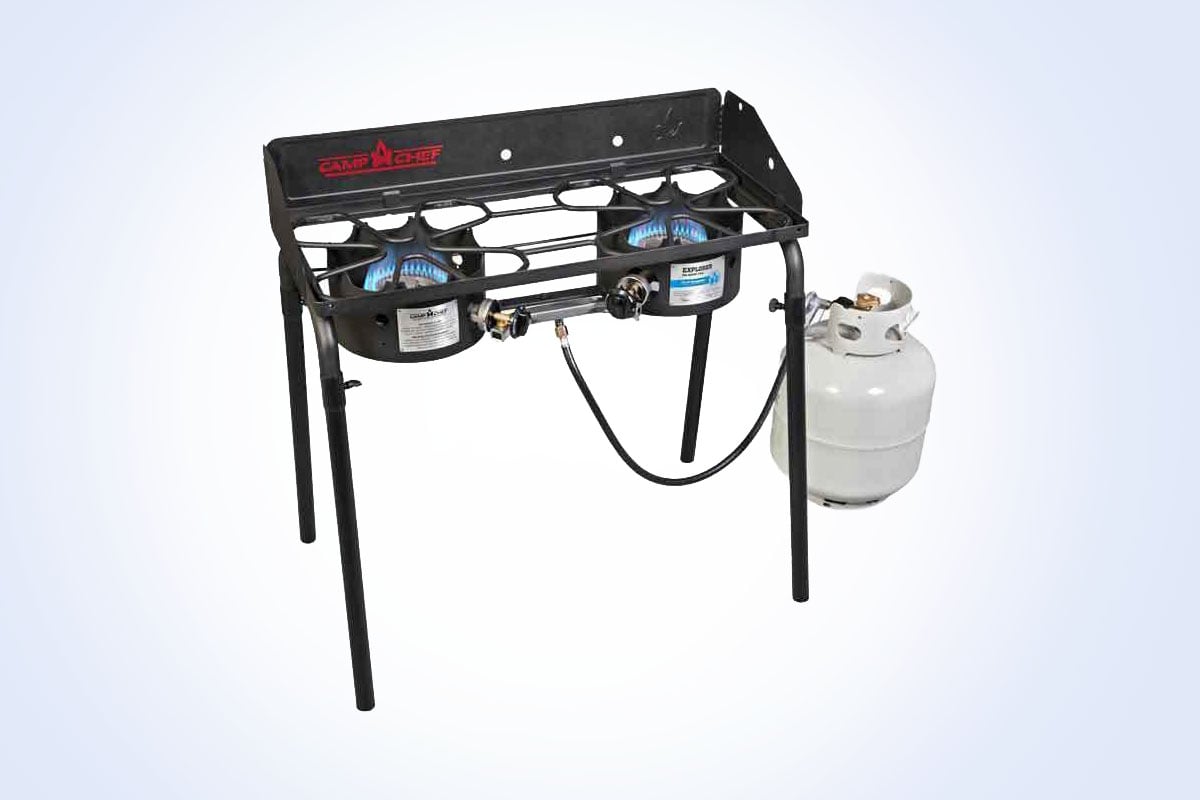 Check Price
Some stoves are backyard grills, and some are camp stoves… and somewhere in the middle lies the Camp Chef Explorer 14. I only break out this bad boy when I'm serving up a serious meal for large groups, like tailgating and big camping meals.
The Camp Chef Explorer 14 brings serious heat, with 30,000 BTUs per burner on a large cooking area of 14x32 inches. This is not a super portable stove - it's the heaviest and bulkiest on this list. But it's still better than carting a picnic table to your campsite! Just make sure you aren't going to have far to go from your car - unless you want a workout before you eat.
For all its size, this is a nicely packable stove, with detachable legs and windscreen making it far easier to get inside a trunk or a truck bed than you might expect. It's highly compatible with griddles, Dutch ovens, and pretty much any accessories you might want. If you want to be able to make just about any recipe for a large group of people, the Camp Chef Explorer 14 is a crucial part of your next adventure.
Key Features
Uses refillable large propane tank
3ft hose and regulator included
Detachable legs and 3-sided wind screen
Compatible with griddle, Dutch ovens, and most cooking accessories
30,000 BTUs on each of two cast aluminum burners
Appliance-style temperature controls
Cooking area dimensions: 14x32in
Weight: 30 lbs 8 oz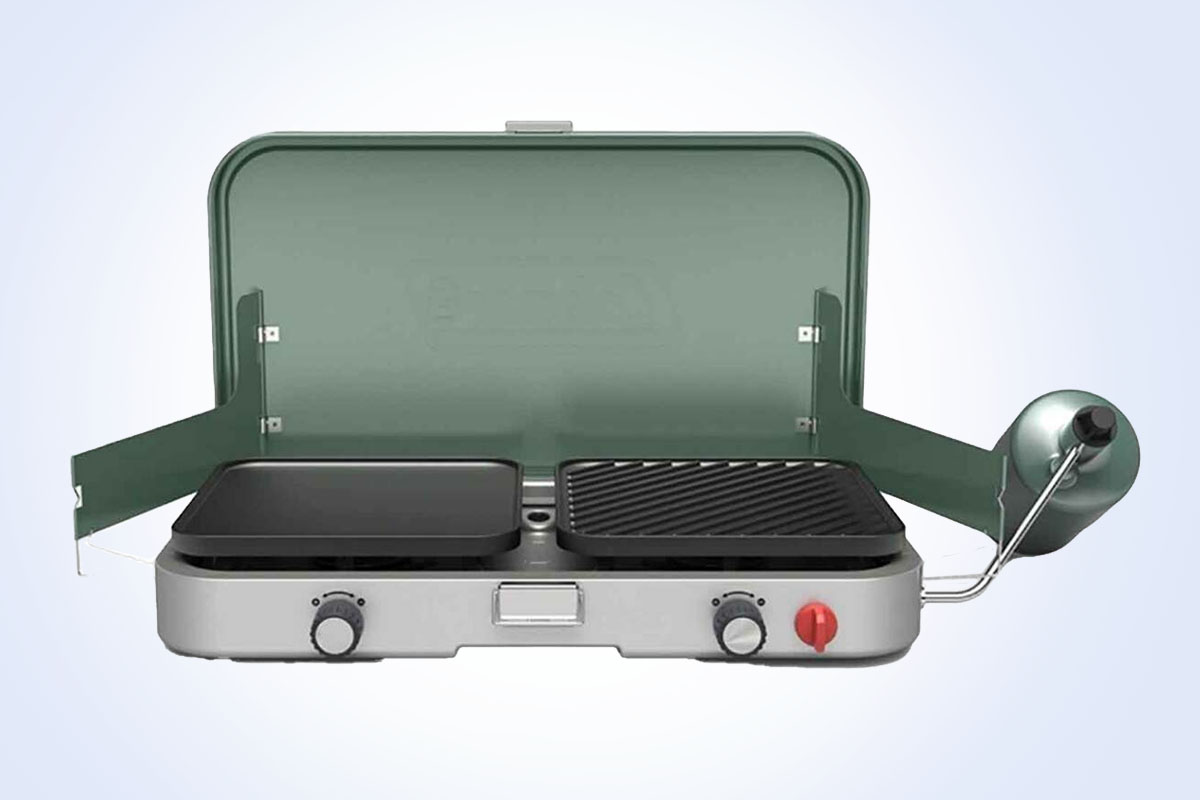 Check Price
There's nothing that screams "camping" to me like frying things up on a grill or a griddle. There's just something about that flat surface that gets the bacon crackling just right and reminds me of my camping trips growing up. So, when I picture family camping, I'm usually thinking about the Coleman 3-in-1 stove.
This stove has two burners, but is also adaptable to its cast iron grill and griddle attachments. And you can configure this in any way you want! Grab the griddle and one burner for bacon and eggs, the grill and one burner for sandwiches and a pot of beans, or whatever combination your heart desires.
The cast iron does up the weight of this particular stove, and the windscreens are a little short to protect the flames, so it might not bring the full protection you'd need for harsh conditions. But if you're heading out on a clear day, you just need to worry about grease splatters!
Key Features
12,000 BTU on each of the two burners
Cast iron grill and griddle attachments
Cast iron carry handle
Cast iron igniter
Propane fuel
Secure space to store regulator
Nylon carry case for accessories
Heavy-duty latch to keep stove closed while traveling
Aluminized steel cooktop is easy to clean
Adjustable burners give good simmer control
Integrated windscreens
Compatible with 10" and 12" pans
Dimensions: 8.66x26.7in
Weight: 13 lbs 8 oz (including cast iron attachments)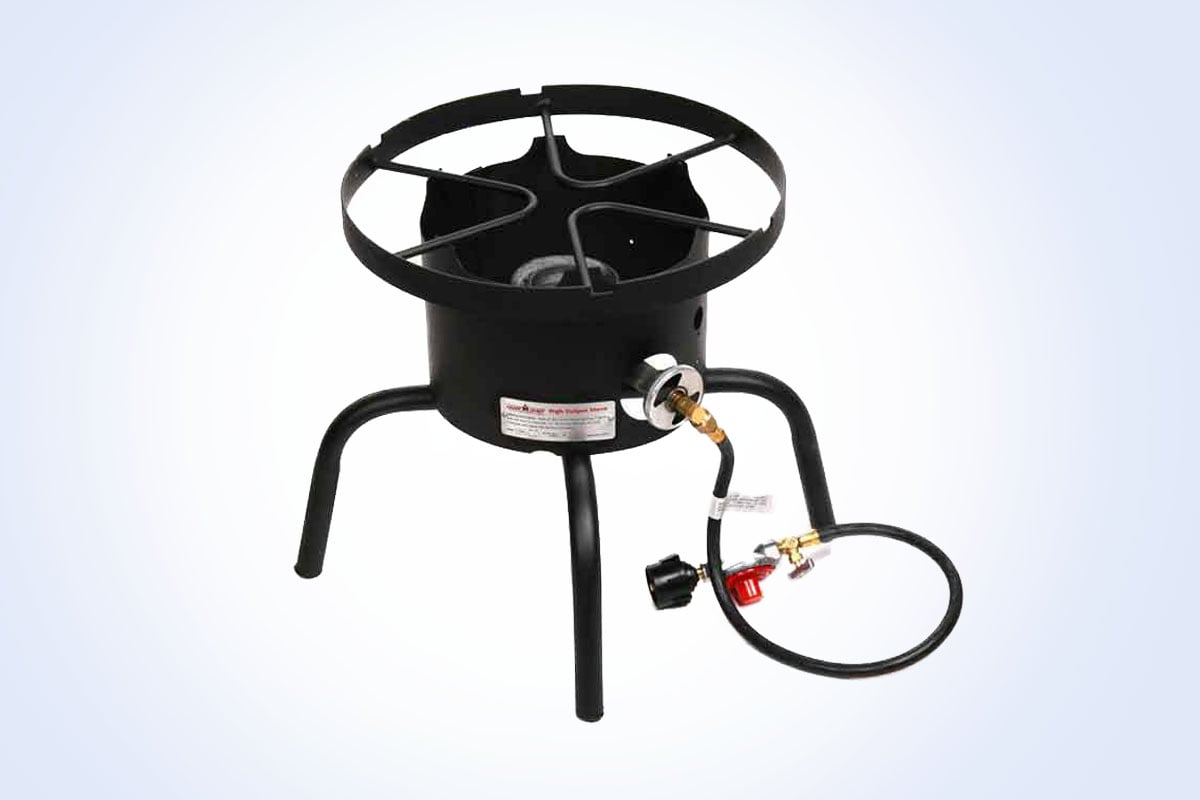 Check Price
When I need a whole bunch of raw power to fire up a single pot, Camp Chef has my back. This single burner spits out a full 60,000 BTU, making it a champ for boiling large amounts of water, frying, and brewing. This can handle everything from home canning to seafood boils.
This doesn't just let me make a big batch of chili in the great outdoors - it also brings me peace of mind for emergency preparedness at home, when I know that I'll be able to fuel a big batch of whatever I can throw together from the fridge if the power goes out.
This might be overkill for the average camper - but if you need it, you need it. If you're looking to boil big quantities fast, this is the way to go.
Key Features
High output and pressure
Fast boiling and heating
Legs are removable
Regulator and 3ft hose included
20x20in cooking area
15in diameter
16in height
60,000 BTU output
Weight: 11.5 lb
Check Price
What if you don't know exactly what kind of outdoor chef you are? In that case, my best advice is to grab a burner and head out into the backcountry with your favorite one-pot meal (that isn't too finicky about simmering).
The CanCooker Portable Cooktop comes in at just $30 and is a highly affordable way to start testing out your chops (no pun intended). This compact burner is ultra-quiet for those nice mornings outdoors, and has an electronic ignition system that makes it easy to light.
This stove is highly portable, with a convenient carry case. It's nothing too fancy when it comes to adjustability or power, but hey, sometimes a flame without the bells and whistles is exactly what you need to spend your budget on other gear and get you off to a great start.
Key Features
Uses 8oz butane fuel canisters
Electronic ignition system
Carry case included
11 ⅛" corner to corner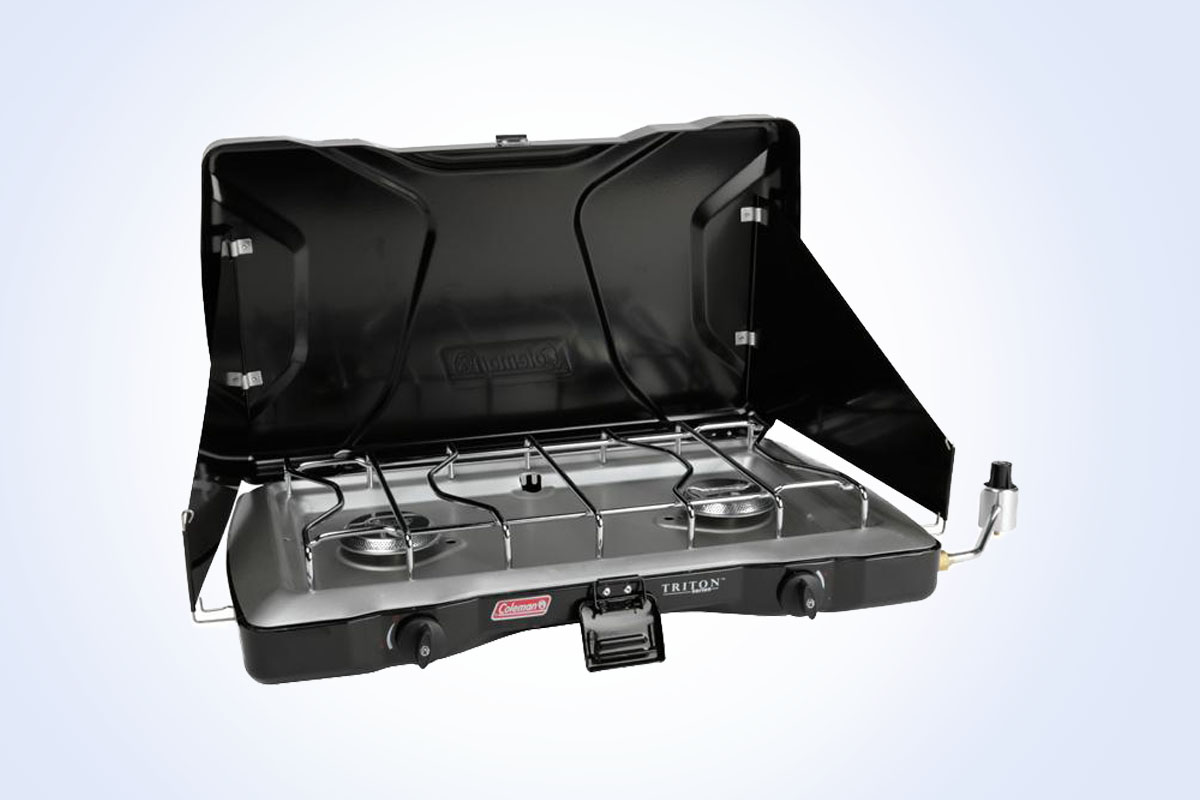 Check Price
Coleman is an industry standard for budget-friendly, reliable camping gear, and their offerings for camping stoves are no exception. The Triton still brings above-average BTUs at 11,000 per burner, without breaking the bank.
This stove offers a nice bit of cooking space, with enough room to cook on a 12" pan and a 10" pan at the same time. Coleman's PressureFlow pressure control technology regulates the fuel through extreme temperatures, and adjustable WindBlock panels keep your flame safe from the elements.
My favorite part of this stove is the cleanup. The grate is removable, making it very easy to scrape off any unwanted residue. The heavy-duty latch keeps the stove closed between uses.
Key Features
11,000 BTUs per burner
PerfectHeat technology regulates fuel pressure
WindBlock windscreen panels are adjustable to fit pans
Propane powered
Compatible with griddle (sold separately)
Manual ignition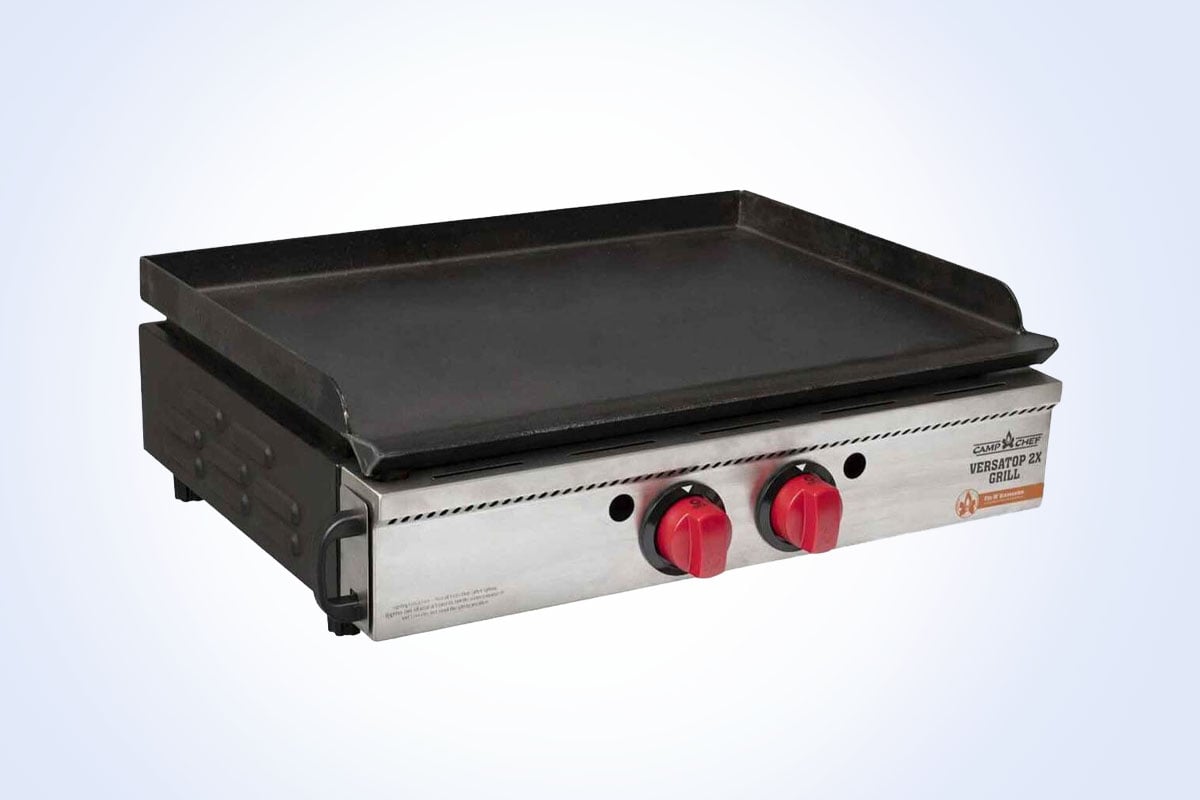 Check Price
If you know you're a pancake champion and a griddle can cover all your needs, the top of the line is the Camp Chef VersaTop. This stove lives up to its name, with a flat top griddle, grill accessory, or bread-baking mode to choose from.
This is a hefty stove, so your back won't thank you if you try to carry it too far. But if you're just transporting from your car, it can deliver nice, consistent heat from 16,000 BTUs out of each of its two burners.
Key Features
Included non-stick flat top griddle
Compatible with 16" Camp Chef accessories
Compact and portable
Leg have adjustable leveling system
Easy cleanup thanks to griddle hole grease drain
Propane fuel
Weight: 39 pounds
Dimensions: 25.25inx21inx8.25in
Cooking area: 416.5 sq in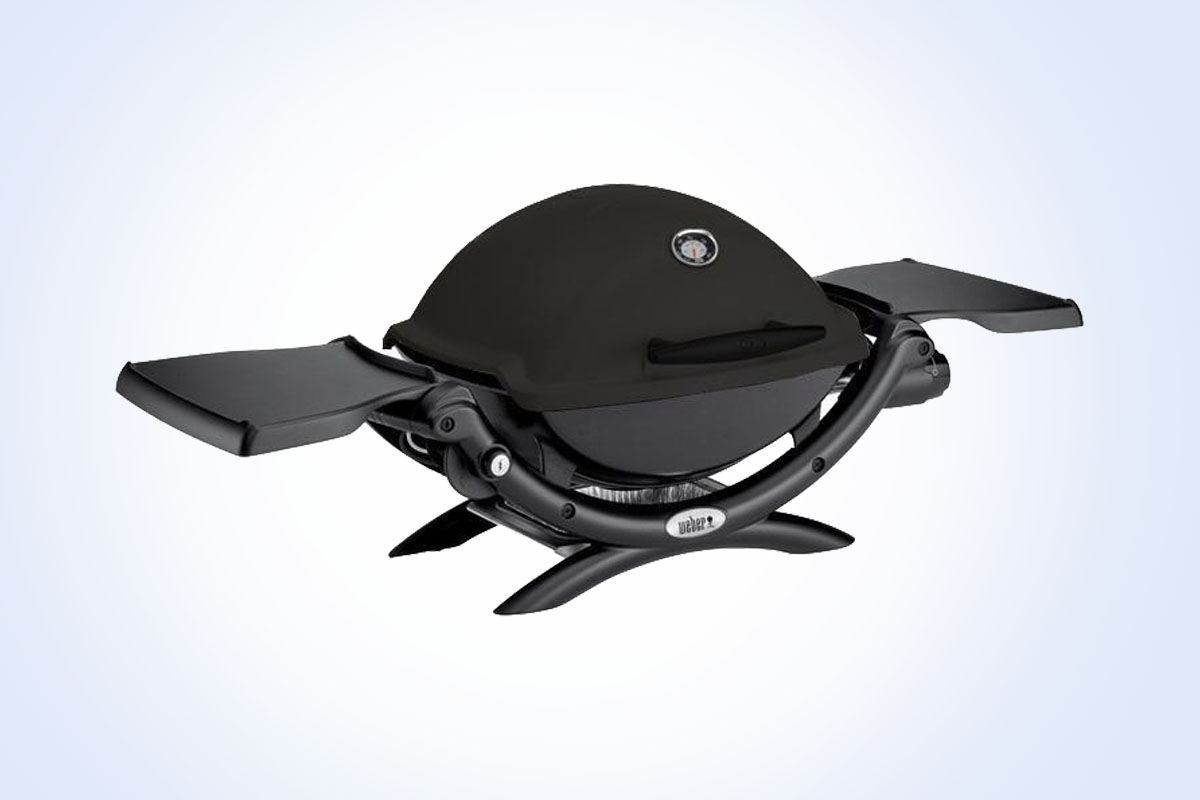 Check Price
And finally, this list is not complete without my favorite portable grill. This scaled-down version of a backyard favorite gives nicely controlled heat and a beautiful, cast aluminum lid. I love the side tables that come out on either side - it's easy to forget about prep space when we're thinking about cooking space! This offers the perfect place for my tongs or braises.
The grill has cast-iron grates with porcelain enameling. It heats quickly, and while it's 8,500 BTUs are less than the others on this list, we're guessing you don't need a fast boil from your grill. It has a nice amount of cooking area for families or groups, and at 30 pounds it's certainly heavier than some of the others on this list, but nice and compact for a grill on the go.
Key Features
8,500 BTU burner
Propane canister fuel source
Auto ignition
Stainless steel burner
Porcelain-enameled cast iron cooking grates
Infinite control burner valve
Side handles turn into trays
Dimensions: 40.9x16.5x15.5in
Cooking area: 189 sq in
Weight: 30 lbs