Skip to content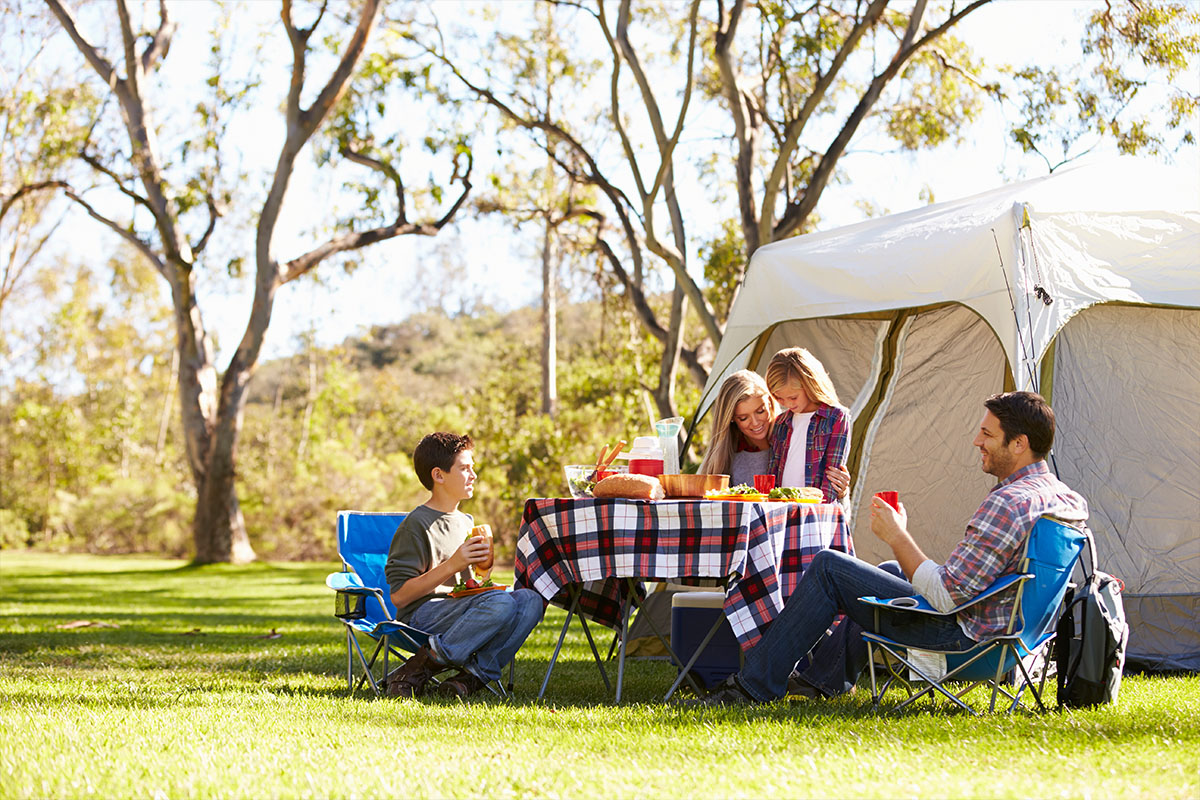 Family camping can create memories that last a lifetime. Having the perfect home away from home brings you closer together and facilitates a wonderful trip for all involved. With the right camping tent, that home away from home might be by the side of a beautiful lake one day and in the middle of the desert the next.
When I'm choosing a tent for my family, I know I'm balancing several needs - both for our comfort and our survival in the elements. That's why I always consider size, temperature, setup time, and portability when I'm choosing a new family camping tent.
In this guide, we will walk you through the basic tent features you need to understand before making a purchase, and then provide examples of some of the best family camping tents on the market. These include:
What to Consider When Choosing a Family Tent
Interior Size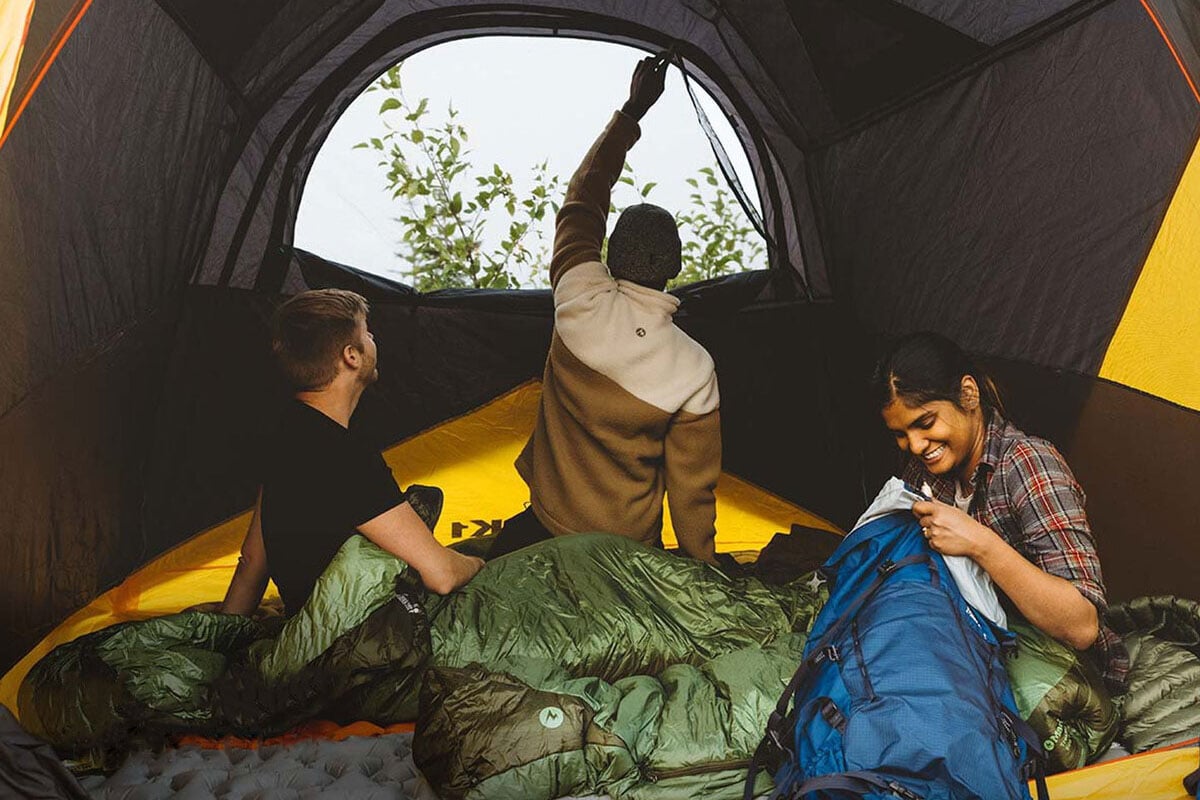 Families fight. This is probably unavoidable. But - having enough space to move around without everyone stepping on their brother keeps those "Mooooooooom!" cries to a minimum.
When I'm camping with my family, the stakes (no pun intended) are high to make sure we have the perfect tent that will keep our trip running smoothly. These are the main things I consider when I'm choosing a tent.
Tents are usually sized for a specific number of people (2-person tent, 4-person tent, 6-person tent, etc). However, they usually fit this number of people pretty snugly - a 2-person tent is likely to fit exactly two people, without much gear, arm to arm. So, if you're actually camping with four people, you might be more comfortable in a six person tent.
Kids can take up more space than you expect, so I usually treat them as adults when counting bodies in the tent. If you have tall people in your family, you may also want to check the height of the tent and see if Dad will be bumping his head against the ceiling for your entire trip! A cabin-style build will have vertical walls with more standing room, while a dome-style build will have less standing room with the same peak height.
If you can, bring your family in to the store and pile into a tent to see how you all fit before you buy.
You may also want to check out the vestibule size and storage options for the tent. Having good, organized storage both inside and outside the tent can make a huge difference, especially if you're a ways from your car.
So, when scoping out the size, keep in mind:
How many people the tent fits (and consider adding a couple for extra space)
How tall the tent is when set up
How much interior and exterior storage the tent provides
Seasons & Weather Conditions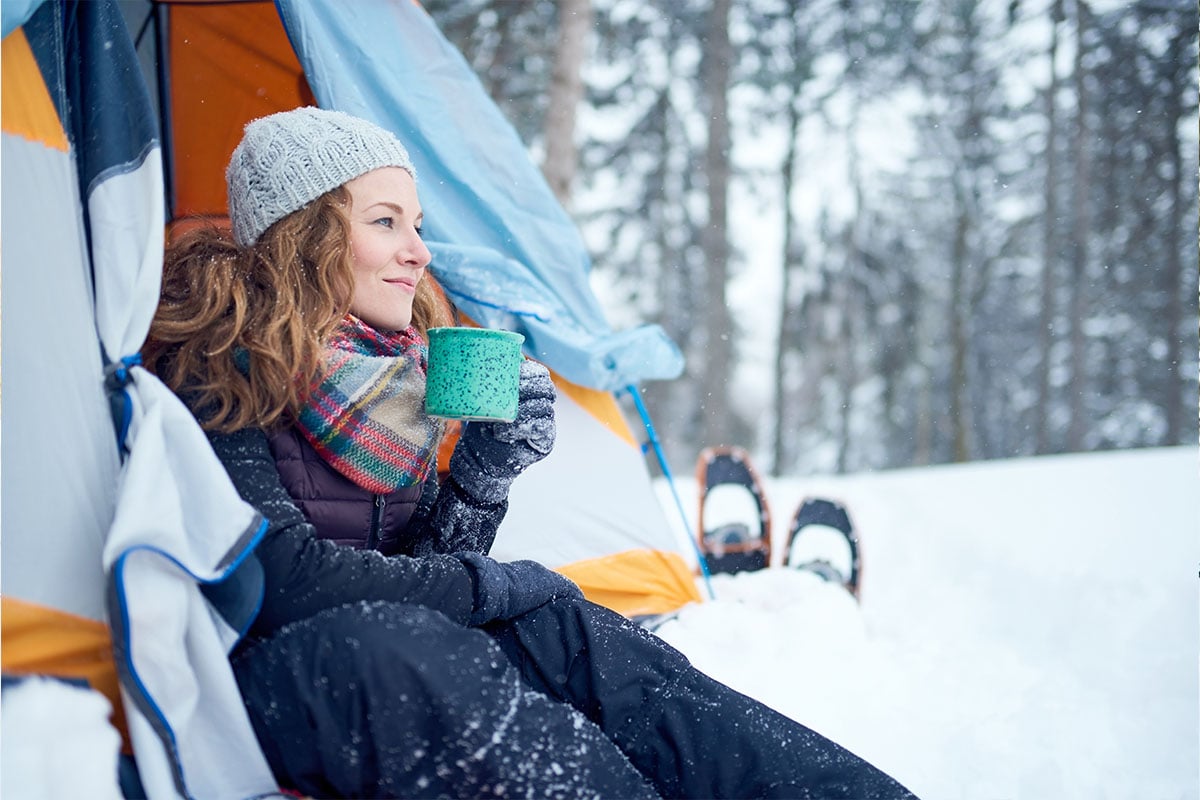 Camping in Death Valley in the summer is not the same as camping in Yosemite in the winter. Whenever you're considering gear, the conditions you're expecting play a crucial role.
Tents are often rated as 3-season tents or 4-season tents. If you'll be avoiding heavy-duty snows and cold temperatures, a 3-season tent will meet most of your needs. But if you'll be camping in cold weather, you'll definitely want to make sure you have a tent that's prepared to keep you warm through the night.
Your tent should be waterproof, with a rain fly that will keep you sheltered through storms. I also check out the tent's ventilation system - especially if I'm going to be in a warm, buggy climate, I want to be able to get airflow without inviting a host of winged things to join my family adventure.
Tent Season Rating & Season Use
3-Season Tents

Fall, summer and spring
Keeps you safe from light rain and snow

4-Season Tents

Cold weather camping
Keeps you safe from heavier stroms
Additional weather considerations:
Waterproofing and rain fly
Ventilation and bug-proofing
Tent Setup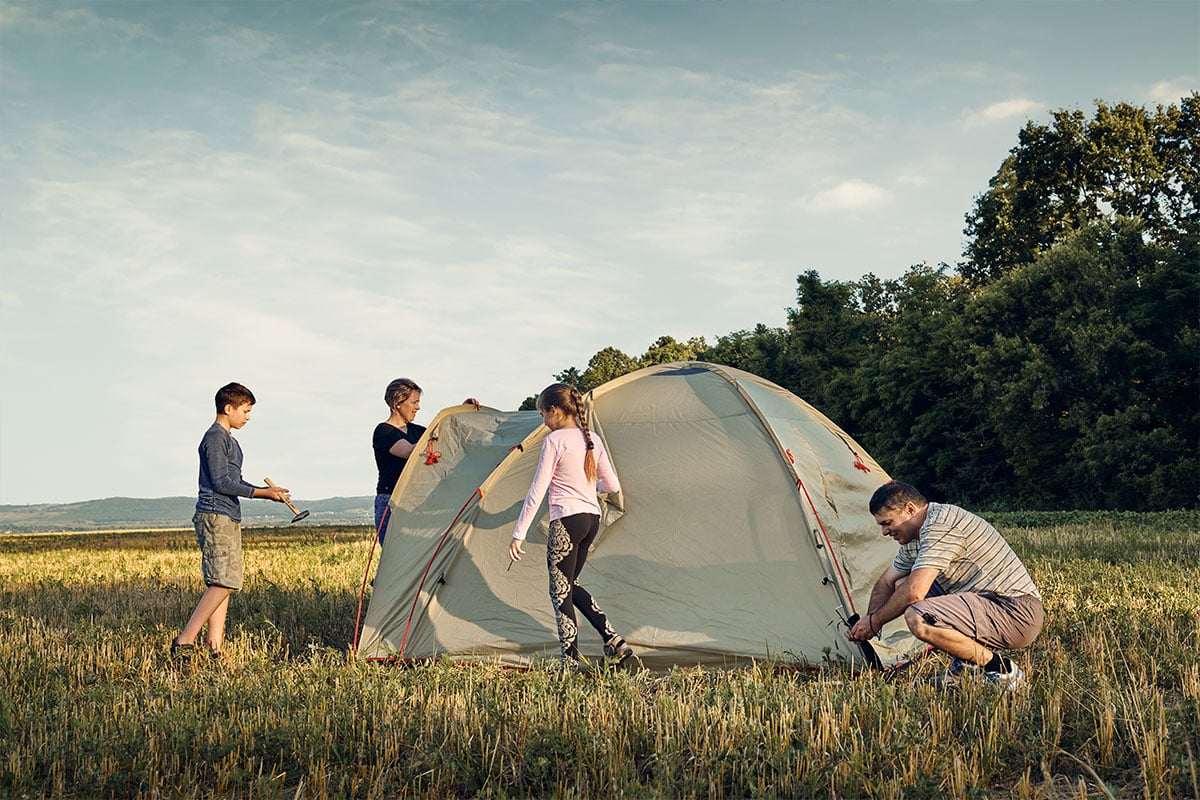 I have a family of hands-on learners. This means that delegating tasks and sharing in tent setup is an important part of our camping experience. I don't mind a few extra poles for added stability and space, especially since it gives my kids the experience of responsibility and building their house.
But, if you have a lot of setup of things like outdoor cookware that you're contending with, or you just want to get to the camping as quickly as you can, then a tent with a less complicated setup process may be right for you. Many tents these days boast their easy systems and pop up in a matter of minutes.
It's entirely personal preference - just know what you're getting into when you buy!
Portability
How important is it that you can carry the tent around with you? If you're car camping and you have a big vehicle, you may not mind some bulky canvas and big poles. But if you are packing yourself and your little ones into a sedan, that space might become precious.
If you're backpacking, that's another story entirely - every ounce matters when I'm strapping my shelter to my back! Think about the space you have available, both in your vehicle and in your backpack if it applies, before purchasing your tent.
Best Camping Tents for Families
We've assembled a collection of wonderful tents that have sheltered many families on many adventures. Each provides something distinct - so the best tent for you will depend on your family, where you're camping, and everything we've covered so far. I hope this guide helps you kickstart your next great memory!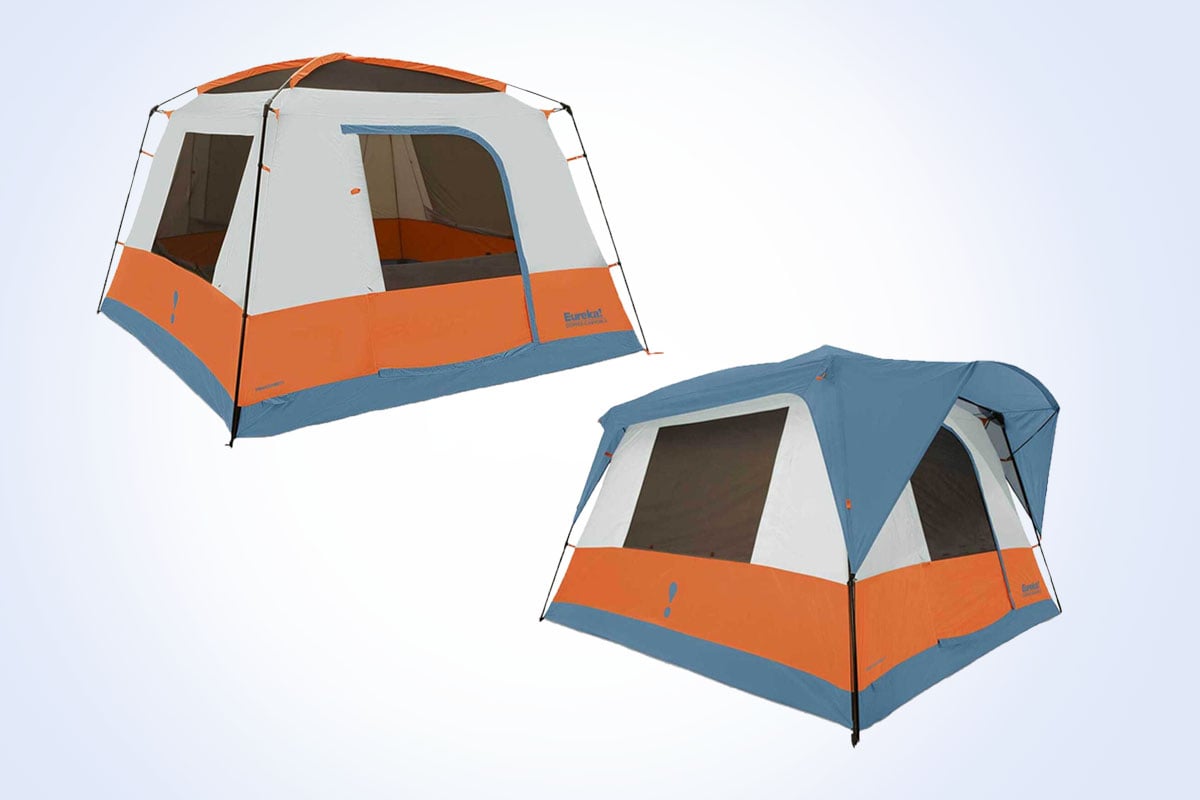 Check Price
The Eureka Copper Canyon LX 6-Person Tent is a reasonably-priced, roomy tent that works for most family camping scenarios. It has a 7' peak height and solid setup for organizing your gear. It's a bit bulky when packed up, so we recommend it for car camping when you'll be setting your tent up pretty close to your vehicle. This 3-season tent will get you through most rainstorms well, but it's not a super-durable 4-season tent. It's easy to set up and offers a cabin-style interior for you to set up as you see fit!
Key Features
Steel and fiberglass frame
Near-vertical walls for better standing room
7' peak height
Large mesh windows with waterproof curtains
Extended fly coverage over the door
Zippered E! Powerport to run an extension cord through
Stash pockets and gear loft for organization
Best Budget: Coleman Sundome 6-Person Tent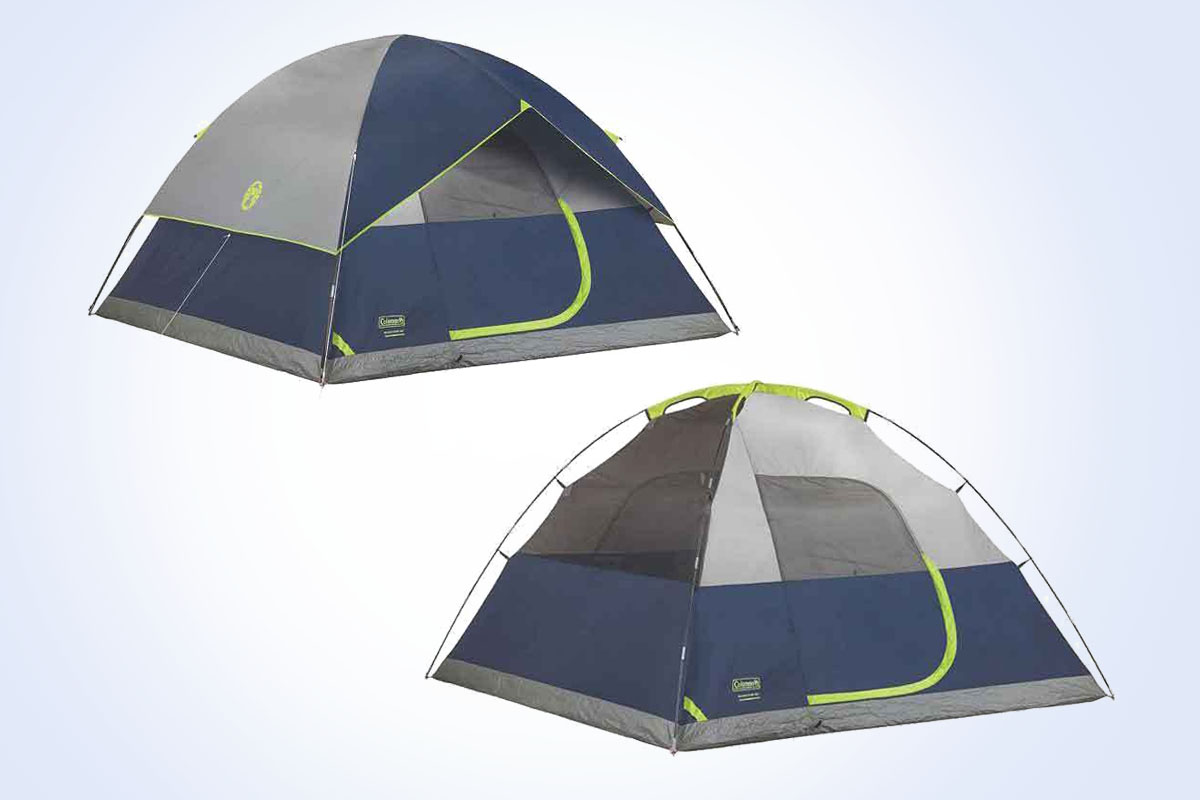 Sometimes, you don't want to blow the budget for your family vacation on gear. Whether you're spending as little as possible while finding out if your kids even like camping, or just saving for more national parks passes, money matters. The Coleman Sundome comes at a highly competitive price, with great ventilation from ground vents and large mesh windows in the double-wall design. It's easy to set up, lightweight, and includes a rainfly that goes ⅔ of the way down the sides of the tent to keep water out.
Key Features
Dome style build
Single-door
Double-wall design
Two mesh windows
Pole sleeves for easy setup
E-port for running an extension cord into the tent
Ground vents for additional ventilation
Rainfly extends ⅔ down the tent wall
Welded corners and covered seams for additional waterproofing
Interior fits up to two queen airbeds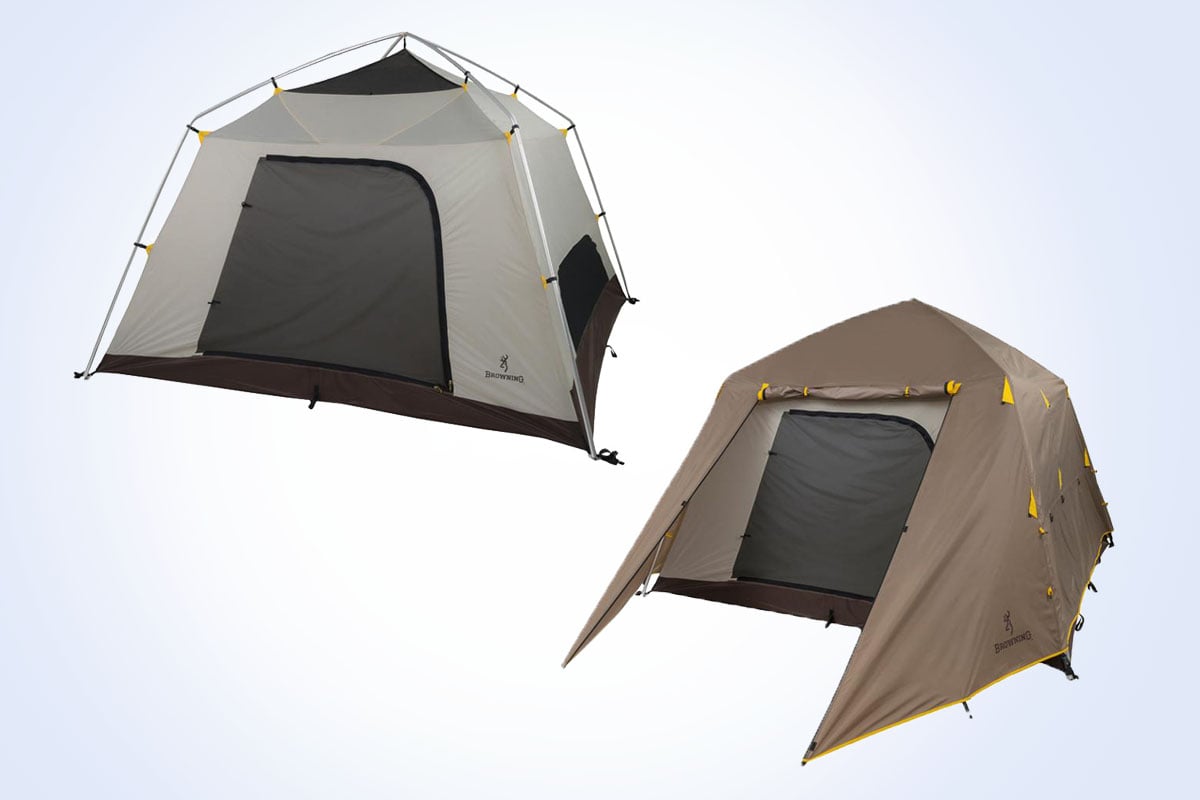 Check Price
When I'm setting out into cold conditions with little ones, having the right gear is my top priority. Browning's Glacier Extreme is my go-to for any conditions that are fit to venture into. The steep roof keeps snow from piling onto the tent and collapsing it, and the cabin-style build gives more space for cots to be far from the cold ground. It has a fast setup and is great to break out even when conditions are more mild.
Key Features
Steep roof keeps snow from piling up
Free-standing 2-pole design
2100 polyester floor and fly
Seams are sealed for water protection
Vertical walls for more standing room
2 large vestibules with double zippers for storage
Weatherproof fly
Mesh roof vents for stargazing
2 doors with zippered mesh windows
Mesh storage pocket
Steel stakes
Included guy ropes
Included floor saver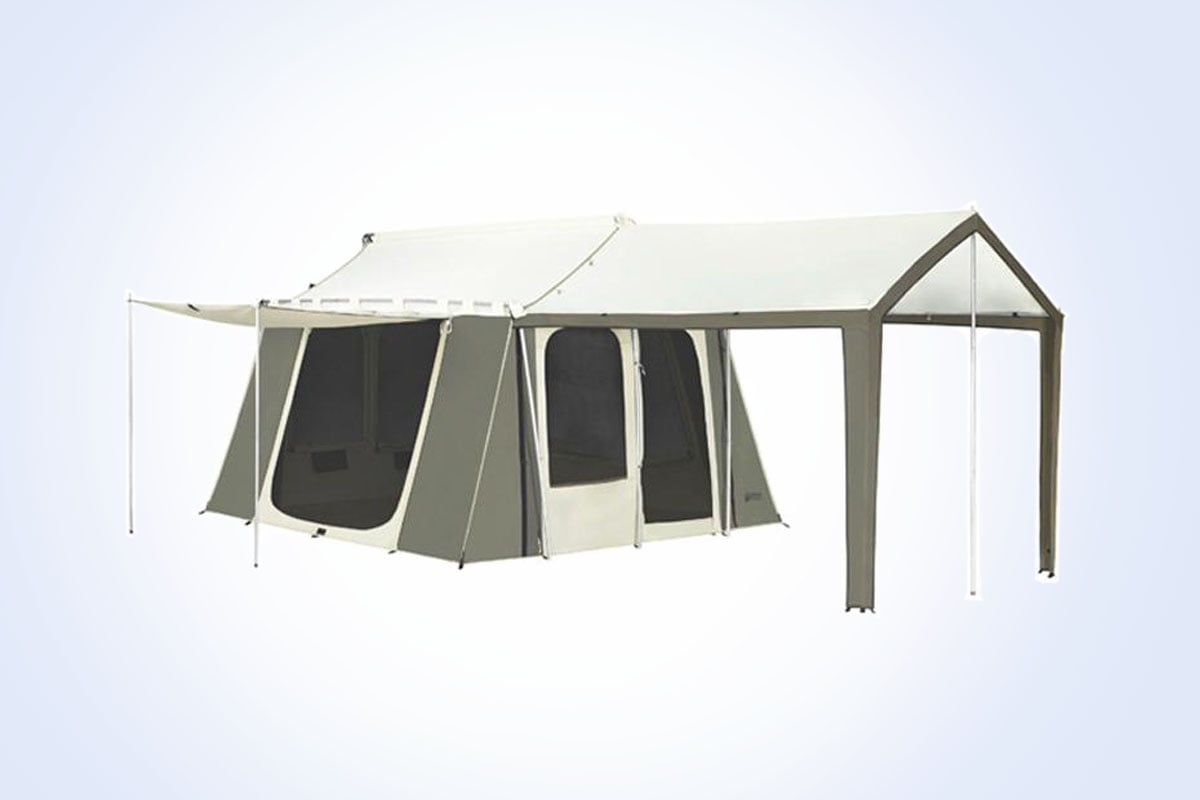 Check Price
When you're camping in the summertime, you want good ventilation and the opportunity to spend some time in the shade. I love the big awning that comes with the Kodiak Canvas tent. This is premium, 100% cotton duck canvas, which gives you a watertight, breathable material for those warm summer months. The awning is the perfect place for shaded, bug-free picnics that still feel like you're in the middle of the forest. Plenty of ventilation and storage options make this an excellent tent - if you can haul the heavier load. Canvas tents often require two adults for the more complicated setup.
Key Features
Hydra-shield 100% cotton duck canvas
1" steel tube poles with welded corner braces
16 oz vinyl flooring is seamless, heavy-duty, and water-resistant
7.5' peak ceiling
5.5' walls at sides
Spacious awning to provide shade and protection from bugs
Large front door and side entry with zippers
Five large windows with mesh
Side wall can be rolled up or extended into small awnings
12" steel tent stakes
112 pounds
Requires two adults for setup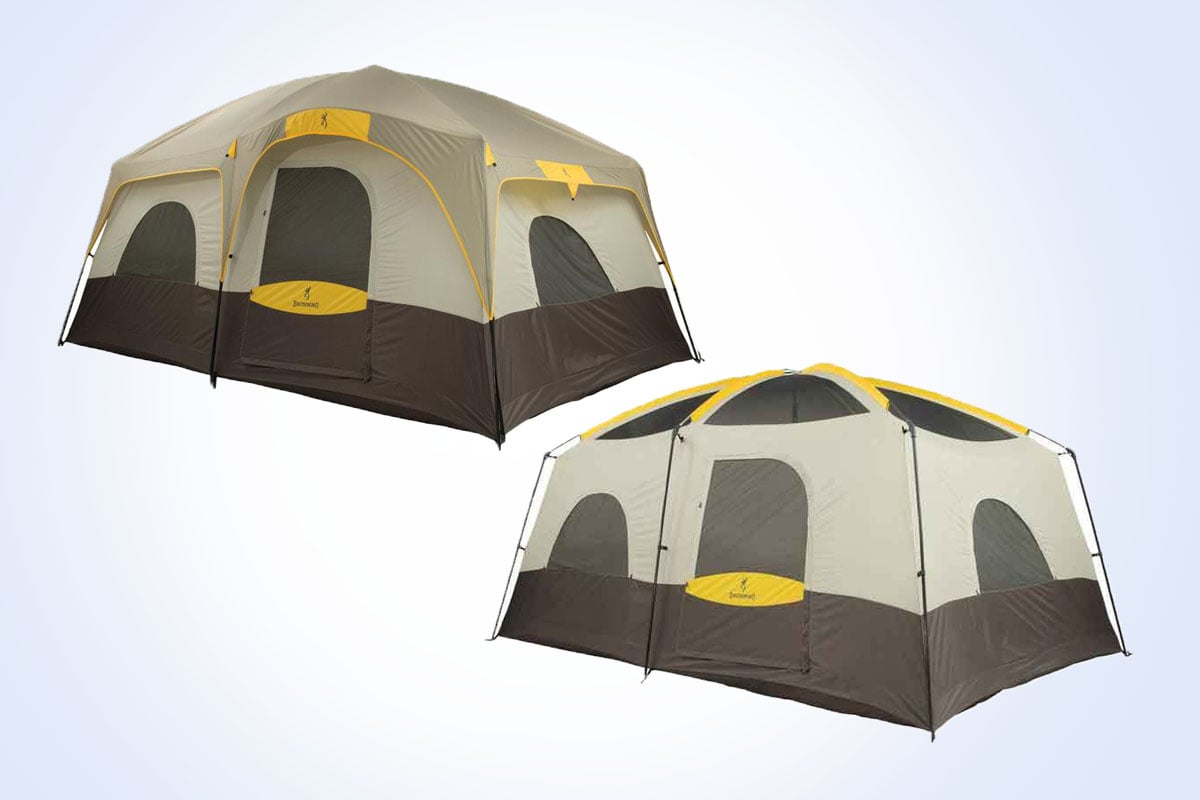 Check Price
Sometimes you just want a tent that can pop up so you can start playing games, grilling, or doing whatever your family loves to do in the great outdoors. The Browning Big Horn 8 uses a 3-pole design with fiberglass poles and a unique hub design. This tent also features a divider that separates the tent into two rooms for a bit of extra privacy, plus excellent protection from the elements and vertical walls for more standing room.
Key Features
3-pole design with unique hub design for easy setup
Fiberglass poles with steel uprights
Wall divider to create two rooms
Two large doors (one in each room)
150D Polylester Oxford floor with 2000mm coating
75D 185T Polyester fly resists UV damage
Cabin-style design gives more standing room