Skip to content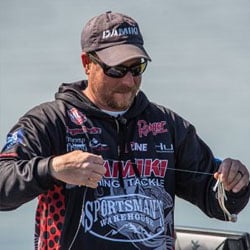 Bryan joined the Sportsman's Warehouse team as one of our sponsored athletes back in 2015, and has continually proven that he is a force to be reckoned with. Since he went pro in 2007, he has qualified for every Major League Fishing championship (formerly known as Fishing League Worldwide), currently holds the record for the most top 10's, and won the last ever Forest Wood Cup.
---
Highlights
Thrift's 15-year career with the Bass Pro Tour includes nine wins and 65 Top 10s (second-most in FLW history)
---
Experience
Thrift is considered to be among the best in the world of professional bass fishing, and has many titles and tournament wins under his belt.
---
Recent Work