Skip to content
Skip to navigation menu
Patternmaster 12ga Remington Code Black Turkey Choke
ID
1385532
by PatternMaster Chokes
$99.99
Patternmaster 12ga Remington Code Black Turkey Choke -Patternmaster created the Code Black line of choke tubes for the world's most serious hunters. All Code Black tubes are titanium-coated and finished in matte-bronze for a distinct look.
1385532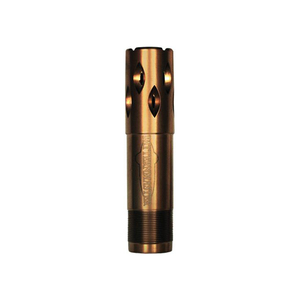 Patternmaster 12ga Remington Code Black Turkey Choke
by PatternMaster Chokes

Overview
Overview
Patternmaster 12ga Remington Code Black Turkey Choke -The Code Black Turkey Choke combines constriction with Patternmaster's patented "wad-stripping" technology that increases down range energy for greater knock down power. Plus, the unique "canoe porting" reduces recoil so hunters are back on target faster and the porting allows the use of ammunition containing a "flight control" wad where normal "ported" tubes and barrels are not recommended. Code Black Turkey Chokes will extend out the end of your barrel one and a half inches and tubes have been designed with a 0.075 constriction from barrel diameter for an expected Extra Full pattern and effective range between muzzle and 70 yards. Recommended with ammunition designed for turkey hunting such as Lead, Copper and Lead combination, and Hevi-Shot. Code Black tubes are made from Carpenter Custom 630, aircraft quality, 17-4 Stainless Steel and have a Non-Reflective BronzeTitanium coating. Not for use with steel shot or slugs.Patternmaster's 12ga Remington tubes will interchange with Remington 870 and 1100 (NOT 887); Chas Daly current Pumps and Semi-Autos, and Model 206; Chas Daly O/U made it Turkey; H&R Excell Auto; just to name a few.
Material: 17-4 Stainless Steel
Bronze Titanium Coating
Not for use with steel shot
Not for use with slugs
Specifications
Specifications
| | |
| --- | --- |
| Gauge | 12 GA |
| Safe For Serrated | No |
| Waas Compatible | 0 |
| Waterproof | No |