Skip to content
Skip to navigation menu
Patternmaster 12ga Code Black Duck Choke Tube
ID
p1368452
by PatternMaster Chokes
$89.99
Patternmaster's Code Black Duck tubes will extend out the end of your barrel 1 inch and have an effective range out to 60 yards. If your looking to reduces the amount of cripples you see and drop birds into your spread there's no better choice than a Patternmaster.
p1368452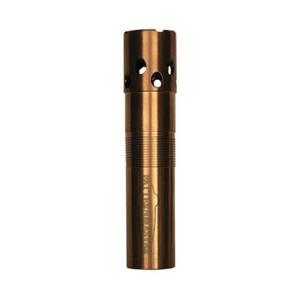 Patternmaster 12ga Code Black Duck Choke Tube
by PatternMaster Chokes

Overview
Overview
With a Patternmaster choke tube you will see a patterns similar to a Full constriction choke on paper with a 2 3/4in or 3in shell and a Modified with a 3.5in shell, but because of the patented stud ring inside the tube, there is a much shorter shot string. This shorter shot string will allow more shot on target all at once so your down range energy is sure to kill instead of cripple. The Patternmaster Code Black Duck tube can be used with steel or other non-toxic ammunition as well as lead, 2 3/4in or 3in or 3.5in shells. Code Black Duck tubes only come in a Non-Reflective Bronze titanium coating and are ported. Patternmaster tubes are made of Carpenter Custom 630 (aircraft quality) stainless steel and are heat treated to the optimum level for best performance. NOTE: Not for use with ammunition containing flight control wad or slug ammunition.
Wad-control technology shortens shot string
Creates denser patterns
Porting reduces recoil
Specifications
Specifications
Please choose a variant above.