Skip to content
10 Best Long Range Hunting Rifles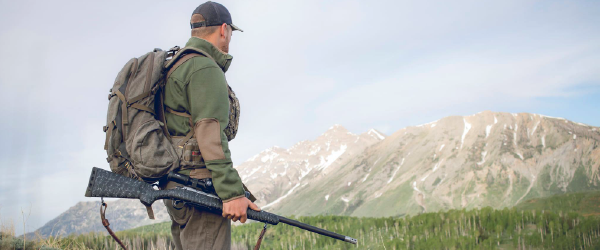 Many marksmen dream of making the long shot. Hunting game from afar ensures your safety, as you don't run the risk of being charged by a wounded animal. Keeping your distance also allows you to find your target before it can see, smell, or hear you.

But if you're going to be long range hunting, you want to make sure you have the technical skill and the equipment to make your shots. You'll need to place your ammunition squarely in the vital zone of your game to ensure a quick, ethical kill that doesn't tarnish the flavor of the meat from stress. Your skill and your optics are a huge part of this – but so is your rifle. Make sure to invest in a quality rifle that can help you make the shots you're dreaming of.
Weight
There are several factors to consider when selecting a rifle for long-range hunting. Because you'll be traversing long distances throughout the day, your rifle will need to be lightweight. Consider this not just when you are selecting your rifle, but also when you are adding on any additional features. A few ounces here or there can really add up on your firearm, especially when you are carrying it long distances.

Many hunters opt for a fluted barrel. The fluting makes the barrel less rigid, because it removes material from the barrel itself. This means it may be more susceptible to barrel whip , or vibrating when a round is fired. However, fluting also makes the rifle more lightweight. If you are hunting and carrying your gun all day over long distances, this may be a higher priority.
Precision
You'll want to consider the rifles precision. Note that this is different from accuracy, though they sound like the same thing. Precision refers to whether the same system can hit the same target under the same conditions. In other words, if you shoot four rounds without moving your gun, how close together do those shots end up? The closer, the better. That's precision. For long range hunting rifles, you'll want precision marked "1 MOA or less," which means that rounds will be within 1 inch of each other at 100 yards.

Accuracy refers to your ability to hit the target with the rifle. It is certainly related to the rifle's precision, but also relies on your ability as a shooter.
Chambering
One of the most important decisions you'll need to make about your rifle is what caliber you want it chambered in. The .308 Winchester is an extremely caliber hunting cartridge that has stood the test of time, while the 6.5 Creedmoor is designed specifically for long range target shooting and has a powerful weight that can take down big game at long distances. Do your homework to make sure you're ready to commit to a caliber before purchasing a rifle.

These are the major considerations. You'll also want a light, predictable trigger; a well-shaped stock that supports the firearm; and compatibility with aftermarket parts, especially a quality scope.

Your rifle is an important investment. Below we offer 10 of the best rifles for long range hunting.
Christensen Arms Traverse
---
This is a sturdy rifle whose heft helps you shoot your targets accurately. It's made by Christensen Arms, a Utah-based company that pioneered wrapping stainless steel barrels in carbon fiber. This allows heat to dissipate more effectively, which keeps your rifle accurate. This design is featured on the Traverse, resulting in an accurate, rigid barrel that isn't too heavy. This bolt-action rifle is designed for the backcountry hunter and is available in a number of cartridges, including 6.5 Creedmoor and .22-250 Remington.

This rifle is ergonomically shaped, making it comfortable to hold, which is essential if you're going to be using it over a long day. This rifle consistently shoots ¾ MOA groups, making it incredibly precise. It has a spiral-fluted bolt, and certainly looks the part of a hunting rifle!

Optics can mount easily over the action, giving you a full, clear view of your field. It has an adjustable match-grade trigger from 2.5-3.5 pounds. It has a 24" barrel that is hand lapped and free floating. It weighs in at 7.3 pounds, making it a good fit for a hunting trip with considerable hiking or backpacking. This rifle is a serious investment, but it is worth it for the backcountry hunter.
Browning X-Bolt Max Long Range Hunter
---

This is an excellent rifle, especially for the hunter on a budget. Browning is able to produce a high-quality, low-cost rifle by making its own stock. This stock has a flat fore-end and an adjustable cheekpiece. Browning has also been improving on their X-Bolt line since 2008, with a specific focus on increasing accuracy. This new stock certainly represents a step forward in the accuracy of the rifle.

This rifle has a fast three-lug action, and its flush-mounted magazine is easy to hold. You'll be able to maintain a full field of view even during recoil, which allows you to see where your bullet makes impact and make adjustments based on what you find. Optics mount on the Picatinny rail above the receiver.

This is a straightforward rifle weighing in at 7.5 pounds – not too heavy for those looking to traverse long distances during their hunting trips. It's also a very comfortable rifle for hunters you need to take their time lining up their shot.
Bergara Highlander
---
This is a solid all-around rifle for hunting big game. The two-lug bolt action is highly reliable, and the cone-shaped bolt nose makes feeding the cartridge easy. The rugged stock and Cerakoted casings make for a highly durable rifle. It has a two-position safety, which is part of the TriggerTech trigger. The bolt handle is not locked in the safety's second position, so you can unload the rifle without disabling the safety.

This rifle comes in a camouflage pattern, and has a detachable magazine holding 4 standard or 3 magnum bullets. The barrel can be 20", 24", or 26", and all barrels are fluted. It weighs in between 7.3-7.8 pounds, making it a good choice for hunters who will be traveling through long days. The fiberglass stock helps the rifle be more stable and accurate.
Savage 110 High Country
---

This rifle has a spiral-fluted barrel and bolt, and uses the Model 110 action. The user-adjustable trigger offers a clean pull for precise long distance shots. Its camouflage-painted outer shell is coated to protect against corrosion and heat. These rifles work well right out of the box.

This rifle comes with a 3-position safety, which is easily operated with your thumb directly behind the bolt. It is prepped to mount a scope. You can easily use the textured magazine release. It has a non-slip grip. It uses an adjustable AccuTrigger.

This rifle weighs in at 8.1 pounds with a spiral-fluted 22" barrel. This means the rifle is a bit on the heavier side, and it could start to wear you down if you'll be carrying it across terrain. It comes in 11 calibers including the 6.5 Creedmoor, the 7mm Remington Magnum, and .308 Winchester. This means the rifle can help you take down just about any game in North America. Don't let its name fool you: this rifle is excellent for all kinds of big game hunting, not just mountainous terrain.
Nosler Mountain Carbon
---

This is an extremely balanced rifle no matter what terrain or position you're shooting from. It's based on the Model 48 bolt action rifle, but is named for its light weight that makes it easier to carry up a mountain if needed. It has a decent precision at 1 MOA – it's not quite as good as some of the others on this list, but it's certainly not bad.

This rifle has a carbon-fiber stock that is reinforced with aramid. The barrel is wrapped in carbon fiber, making it stiff and accurate. It has a 5/8x24 threaded muzzle and a Timney Trigger with a two-position safety.

It has a 24" barrel and weighs in at just 6 pounds, making it one of the lightest rifles on this list and thus ideal for backcountry hunters. Many lighter rifles sacrifice accuracy or become prohibitively expensive, but this is a good compromise. This is a versatile, well-made rifle sure to suit your hunting needs.
Daniel Defense DD5V1
---

The Daniel Defense is a rifle with several innovations. While most automatic rifles secure the barrel using a barrel nut, the DD5V1 has attached the barrel and the free-floating handguard using easily accessible hex bolts. The barrel is cold hammer-forged and lined with chrome, making it more durable. You can interchange 7.62 mm NATO and .308 Winchester with this rifle.

The rifle controls appear on both sides of the rifle, including the magazine release, bolt release, and safety. The flared magazine leads to easy loading and unloading. The stock has a comfortable cheek weld, and locks to keep it from accidentally collapsing.

This rifle has an ambidextrous grip design, which succeeds in being comfortable and providing trigger control for both sides. It also has a two-stage trigger for precise control of your fire. It weighs in at 8.3 pounds, which is on the heavier side if you are looking for a rifle for backcountry hunting.
Proof Glacier Ti
---

This is an extremely well-made, incredibly precise rifle shooting at .6 MOA. It has highly ergonomic stocks, a solid action, and is incredibly smooth to shoot. It's only 6 pounds, making it one of the lighter rifles on this list. Of course, to be that accurate and still very lightweight, it comes with a steep price tag.

This rifle comes with an ultra-light titanium action and a BDL-style magazine. It is ideal for sheep hunting, but comes in a variety of calibers and barrel lengths. Its barrel is wrapped in carbon fiber, and its stock is carbon fiber as well. It has a TriggerTech trigger, and the action can be operated by right or left hand.
Seekins Precision Havak Bravo
---

The Havak Bravo is a great all-around rifle designed for a variety of purposes. It is a bolt action rifle with four locking lugs. It has an adjustable stock and a full-length aluminum backbone. It has a Timney Elite Hunter trigger at 2.5 pounds. It has a threaded 5/8x24 muzzle and a removable bolt head. It is easy to re-barrel, which is important if you intend to shoot magnum ammunition. You can re-barrel this rifle at home, by screwing in a new barrel from Seekins.

This is a two-lug action, which allows Seekins to place the extractor and ejector in their ideal positions. The rifle has the "Bravo" model stock, which has an aluminum spine for strength and polymer skins that shape it and make it more comfortable to hold.

This rifle is offered in the 6mm Creedmoor, 6.5mm Creedmoor, 6.5 PRC, or .308 Winchester. Its magazine detaches for easy reloading, and is known for its precision. It weighs in at 9.8 pounds with a 24" stainless steel barrel, making it one of the heavier rifles on this list. It is a more budget-friendly option for hunters who are not worried about rifle weight but still want quality.
BadRock Precision South Fork
---

This is a highly precise rifle able to shoot about ½ MOA groups. Its action is extremely smooth. The parent company, Defiance Machine, is the most prominent producer of precision-rifle actions, and it shows in this firearm. It has almost a futuristic look with a stainless steel barrel and open casing.

The South Fork uses a precision bolt action with a stainless steel barrel. The action is set into an aluminum chassis, and is designed for a screw-on scope rail. This model is designed for additional add-ons and customizations.

This rifle comes with a screw-on scope rail and a TriggerTech trigger. It weighs in at 11 pounds, 5 ounces, making it the heaviest rifle on this list by far. That won't be a problem as long as you're not planning to carry the rifle across long distances, and you can handle the extra weight.
Remington Model 7 Mountain SS
---

Remington is a consistent manufacturer of high-quality rifles. It has a classic stock design with a sculpted cheek piece, and a tapered 22" barrel. It has a classic, clean design, and the stock has a straight-line comb angled toward the muzzle. It uses an adjustable X-Mark Pro trigger system.

The barrel is stainless steel, which helps this rifle be more lightweight, but can also lead to it heating up quickly. A hot barrel won't shoot as accurately.

This rifle is geared toward hunting in mountainous terrain, and it is highly precise right out of the box. It weighs in at 6.5 pounds, making it very lightweight and useful for backcountry hunting.