Skip to content
Skip to navigation menu
Swarovski STX Modular Straight Spotting Scope Eyepiece
ID
1305524
by Swarovski
$2,369.00
Swarovski STX Modular Straight Spotting Scope Eyepiece - The new modular design offers previously unimagined flexibility and you are free to choose the perfect solution as the situation dictates.
1305524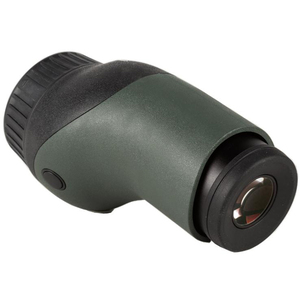 Swarovski STX Modular Straight Spotting Scope Eyepiece
by Swarovski

Overview
Overview
The Swarovski STX Modular Straight Spotting Scope Eyepiece is a wide angle eyepiece specifically engineered for the STX spotting scope series. The straight-view configuration is well-suited for digiscoping and long-duration observation with your premium Swarovski optics. This eyepiece is compatible with the STX-65, STX-85, and STX-95 objective assemblies. Mounted with either the STX-65 or STX-85 objective assembly, this zoom eyepiece has a magnification range of 25-60x; when mounted on the STX-95 model, the magnification range is 30-70x.

This configuration of the Modular Zoom Eyepiece seamlessly integrates with the DCB II and TLS APO digiscoping adapters. These optional accessories from Swarovski allow operators to transform their STX spotting scope into a formidable digital imaging platform. The accessory adapters enable integration with point-and-shoot, mirrorless, and DSLR camera systems, and feature the build-quality and thoughtful engineering you expect from Swarovski. Now your superior optics can be used to capture high-definition stills and video of that rare bird or butterfly in your sight.

Straight Viewing
Eye Relief: 20mm
Field Of View Apparent Degrees: 57-71°
Functional Temperature: -13 F to +131 F (-25 C / +55 C)
Storage Temperature: -22 F to +158 F (-30 C / +70 C)
Submersion Tightness:13 ft (4 m) water depth (filled with nitrogen)
Compatible with STX Spotting Scope
SWARODUR/SWAROTOP High-Contrast Coatings
SWAROCLEAN Non-Stick Coating
Waterproof/Fogproof Construction
Twist-In Eyecups
25-60x zoom range (with STX-65, STX-85)
30-70x zoom range (with STX-95 only)
Phase-corrected roof prisms