Skip to content
Skip to navigation menu
DMT 6-inch Diamond Whetstone Sharpener with Plastic Box
ID
1275830
$44.99
DMT 6&quot, Diamond Whetstone Sharpener with Plastic Box - sharpens a variety of knives and tools to a razor sharp edge. Comes in a sturdy plastic case. Available in course and fine.
1275830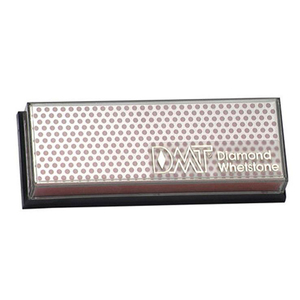 DMT 6-inch Diamond Whetstone Sharpener with Plastic Box

Overview
Overview
A popular sharpening choice, DMT Diamond Whetstone sharpener is great for home, RV, camper or in the shop offering a sharpening surface to satisfy a variety of edge care needs. This 6-in. Diamond Whetstone sharpener comes in a durable plastic case with mounting capability. Includes non-skid rubber feet. Fine diamond (25 micron / 600 mesh) for a razor sharp edge. Size: 6in x 2in x 3/4in. For more than thirty years, DMT, Diamond Machining Technology, has been committed to innovate and produce the world's finest diamond sharpeners for outdoor tools, skis and snowboards. DMT manufactures a full range of precision engineered diamond sharpeners to meet the most demanding enthusiasts' needs, whether carving down a mountain or filleting a fish. All products are designed and made in the USA using the highest quality materials and workmanship to provide years of consistent performance and reliable service. For sharpening instructions, video tutorials and more product information, go to www.dmtsharp.com.
Easy counter or bench use with a 2" wide diamond surface for sharpening a variety of knives and edges
Sharpens knives faster than conventional stones with DMT's monocrystalline diamond surface
No oil is needed-sharpen dry or with water
Durable construction will provide years of consistent performance and reliable service
Made in USA
Size: 6 x 2 x 0.75 inch