Skip to content
Skip to navigation menu
Pine Ridge Kwik Stand Bow Support
ID
p50770
by Pine Ridge Archery
$14.99
Pine Ridge Kwik Stand Bow Support - The Kwik Stand Bow Support solves all the issues archers have with current bow stands on the market. With very simple adjustments, the Kwik Stand will fit on all bows limbs, even the wide limbs like the Halon® that others will not. The legs adjust as well to allow for the best balance angle for your bow.
p50770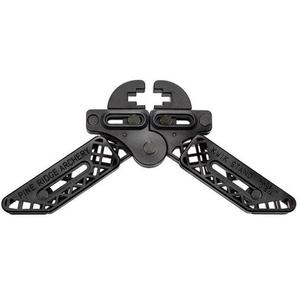 Pine Ridge Kwik Stand Bow Support
by Pine Ridge Archery

Overview
Overview
Pine Ridge Kwik Stand Bow Support -Put these innovative features together with USA made quality and durability and you have the only bow stand you will need!The Kwik Stand is great for tournament archers and blind hunters alike. Simple to attach and easy to fold and store when not in use. Plus, 10 accent color options allow the shooter to match their bow and accessories. The Kwik Stand is the best option for any shooter, of any discipline and any skill level.
3 Color Combo Choices
Non-Maring Jaws / won't scratch limbs
Adjustable Jaws fits all bows (1.28" up to 3.14" Wide)
Legs Adjust for Better Stance from 4.25" to 6.00"
Great for Tournaments
Perfect for Ground or Box Blind Hunting
U.S. Patent Pending
Specifications
Specifications
Please choose a variant above.