Skip to content
Skip to navigation menu
Frabill Sit-N-Fish Bucket
ID
411266
by Frabill
$23.99
Frabill Sit-N-Fish Bucket - Store all of your smaller ice fishing gear and keep it protected from the snow and slush in this bucket that has a snap-on lid to seal out all moisture. This bucket is great for shore, pier and ice anglers to take along to use as a seat and tackle storage.
411266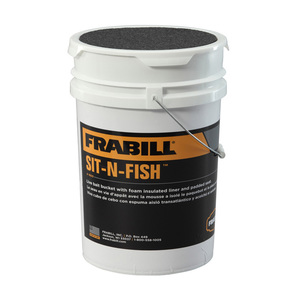 Frabill Sit-N-Fish Bucket
by Frabill

Overview
Overview
Frabill Sit-N-Fish Bucket - This convenient bucket not only stores your fishing tackle that you want to take along on your fishing trips but also serves as a comfortable padded seat with a foam snap-on seat lid that keeps moisture and dirt out of the bucket in storage and transport. The 6 gallon bucket also comes with a 10 quart insulated foam liner that is inside the bucket and has a proven temperature control inside the bucket. The inner liner is perfect for holding your beverages and keeping them cool and ready for drinking.
6 gallon bucket
10 quart insulated foam liner
Comfortable foam padded seat lid
Proven temperature control of insulated inner bucket
Perfect for shore, pier and ice anglers