Skip to content
Skip to navigation menu
Clam Speed Spoon
ID
p33361
$4.99
Clam Speed Spoon -Big perch with foreheads love this thing. Or hate it. Hard to tell. It's a jigging spoon with a chain holding a detailed matching trailer, that darts and pulses to its own beat as you work the spoon.
p33361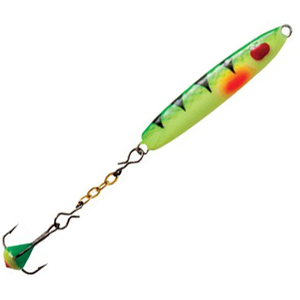 Overview
Overview
Clam Speed Spoon -Makes the right noise, looks wounded and vulnerable, and gets up and down super fast. Slim minnow profile reaches the depths in record speed . Jumbo perch don't tend to stay in one place. You gotta pluck 'em out of the school while they're under you. Oh, and did we mention it slays crappies and walleyes, too?
Treble or single hook
Lead spoon with dropper chain
Minnow body attracts fish
Custom fire tiger bar pattern
Ideal for heavily pressured fish
Colored glowing epoxy attractor hooks
Natural bug paint pattern
Unique double sided paint pattern
Specifications
Specifications
Please choose a variant above.