Skip to content
Skip to navigation menu
NRS Atomic Aluminum Oarlocks
ID
1293247
by NRS
$47.99
NRS Atomic Aluminum Oarlocks - The ultra-strong, drop-forged NRS Atomic Aluminum Oarlock combines state-of-the-art technology with time-tested design.
1293247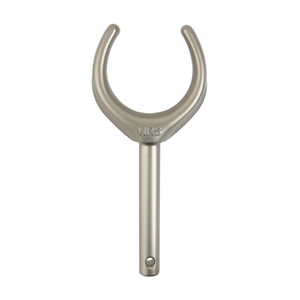 NRS Atomic Aluminum Oarlocks
by NRS

Overview
Overview
NRS Atomic Aluminum Oarlocks - Pound for pound, this is the lightest, toughest oarlock out there. The drop-forge production process yields a much higher strength-to-weight ratio compared to cast or machined aluminum components, making the NRS Aluminum Oarlock both lightweight and incredibly strong. It is extremely hard to "pop" an oar through the tines of the NRS Aluminum Oarlock, allowing you to row big water with more confidence. Durable anodized finish eliminates oxidation and discoloration. Includes split rings to keep the oarlock from riding up.
MaterialDrop-forged aluminum
2 3/8" inside diameter
7 1/8" total length
3 7/8" long shaft
5/8" diameter shaft
1 5/8" horn opening
Includes:Split rings