Skip to content
Skip to navigation menu
Bounty Hunter Quick Silver Metal Detector
ID
1008339
by Bounty Hunter
$159.99
Bounty Hunter - Quick Silver Metal Detector - Bounty Hunter metal detectors are American made by First Texas Products. They have over 30 years of experience, and a list of features and patents that keep the competition scrambling.
1008339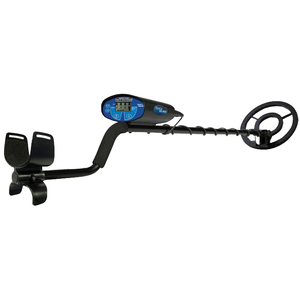 Bounty Hunter Quick Silver Metal Detector
by Bounty Hunter

Overview
Overview
Bounty Hunter Quick Silver Metal Detector - The Bounty Hunter Quicksilver Metal Detector is an advanced system designed for those who are new to the hobby by providing maximum basic target discrimination with minimal operator adjustment. The entire line of Bounty Hunter metal detectors operate on two 9 Volt batteries and are designed to be lightweight and ergonomic for easy handling and comfortable use. Their standard motion all-metal mode detects all types of metal, while the progressive discrimination control eliminates iron and other unwanted items. As the metal detecting coil nears a target, the Quicksilver three-tone audio feedback aids in distinguishing between valuables and undesirable metals. This model also comes equipped with a 1/4" headphone jack compatible with most headphones for privacy while treasure hunting. In addition, Bounty Hunter equips all their metal detectors with a preset ground balance that neutralizes the response to mineral content in the ground.
Lcd display with four-segment digital target identification identify buried target with ease
Three-tone audio feedback audible tool for accurate target identification
Preset ground balance with squelch-tecH® technology automatically eliminates false signals
One-touch depth select control adjusts sensitivity to more deeply buried targets
Target reject touchpad uses a variable notch system to eliminate unwanted metals
1/4 in. headphone jack for increased privacy, sensitivity to tones, and battery life
Lightweight, ergonomic design provides ease-of-use and comfort for hrs. of productive detecting
Search coil features 8 in. open allows greater depth detection and easier pinpointing
Waterproof coil and stem can be submerged to detect in damp grass or shallow water
Interchangeable available for specialized search applications