Skip to content
Skip to navigation menu
Yeti Tundra 210 Cooler
ID
1419398
by Yeti Coolers
$799.99
Yeti Tundra 210 Cooler -The YETI Tundra 210 is nearly as deep as our largest cooler (the titanic Tundra 420), only in a smaller, cubed footprint. That cavernous space combined with less surface area lets you haul a mighty load of food or drinks without taking up a mighty amount of space in your truck, trailer, or boat.
1419398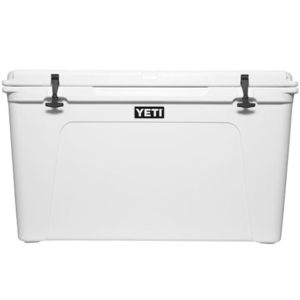 Yeti Tundra 210 Cooler
by Yeti Coolers

Overview
Overview
Yeti Tundra 210 Cooler -Of course, all that efficiency of space doesn't do you much good if it can't keep your supplies cold. But come on — this is a YETI. The Tundra 210 has beefy walls filled with two inches of insulation and a freezer-style gasket to keep whatever you're hauling colder, longer. It also features the same legendary durability as all of our coolers thanks to roto-molded polyethylene construction, unbreakable self-stopping hinges, and marine-grade nylon rope handles. All that makes this the perfect cooler to take on extended hunting and fishing expeditions, longer camping trips, all-day tailgates or any other endeavor that requires maximum carrying capacity in a minimum of space.
RotoMoldee Construction
Permafrost Insulation
No Sweat Design
Bearfoor Non-Slip Feet
Doublehaul handles
Vortex Drain System
BPA Free