Skip to content
Skip to navigation menu
Falcon Guides Hiking Oregon
ID
1023029
by Falcon Guide
$15.95
Falcon Guides Hiking Oregon - A Guide to Oregon's Greatest Hiking Adventures.
1023029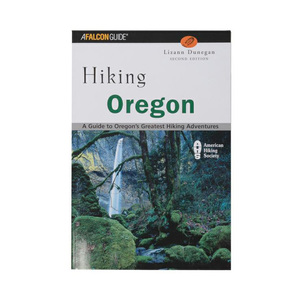 Falcon Guides Hiking Oregon
by Falcon Guide

Overview
Overview
Falcon Guides Hiking Oregon - Lace up your boots and sample fifty of the finest trails in the Beaver State. From the Pacific shoreline to the Blue Mountains, Oregon offers a remarkable diversity. This one-of-a-kind guidebook will take you on hikes along rugged, rocky coastline to historic lighthouses; through sagebrush high desert and magnificent lava plains; to the tops of volcanic peaks; past cascading waterfalls; and alongside wild and scenic rivers. Explore the spectacular coastal cliffs at Harts Cove, the dramatic Columbia River Gorge at Angels Rest, the lush riparian ecosystem along the Metolius River, and the moonlike volcanic landscape of Little Belknap Crater. Veteran hiker and outdoor writer Lizann Dunegan will introduce you to these trails and more.
Pages: 304
Paperback
Author: Lizann Dunegan
Publish date: 05/01/2004