Skip to content
Skip to navigation menu
FSP Fire Blanket for Firepan
ID
1293240
by NRS
$74.99
FSP Fire Blanket for Firepan - Use your Fire-Sil Firepan Ground Cloth to keep coals and ashes from fouling campsites and possibly causing wildfires. Great 'Leave No Trace' camping accessory. Meets permit requirements.
1293240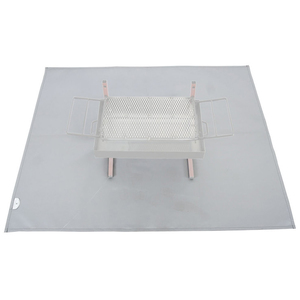 FSP Fire Blanket for Firepan
by NRS

Overview
Overview
FSP Fire Blanket for Firepan - Fireproof and durable, the Fire-Sil fabric will give you years of use. Approximately 5' x 6' (30 sq. ft.), the Ground Cloth gives great coverage for collecting the ashes and embers that can fall out of your firepan. While the Ground Cloth can take the heat of embers and burning wood that fall out of your Firepan, put these burning materials back in as soon as possible to prolong the Cloth's life.
Material: Fire-Sil flame retardant fabric
Size: 5' x 6', 30 sq. ft